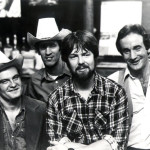 Bill Coover and Jeff Spencer formed the Memphis Rockabilly Band in 1978. Though the band came from the Boston area, they chose this name to leave no doubt about the music they decided to play: Rockabilly with a Sun influence. In an interview given to us in 2007, Jeff Spencer recalled "I think the first rockabilly record I heard was Carl Perkins' "Blue Suede Shoes." I bought it. If you listen to it today, it still rocks."
Spencer came to singing around the age of 25 when he took up guitar. He named Elvis, Carl Perkins, Hank Williams, Jimmy Reed, Little Richard, Fats Domino, Chuck Berry, the Moonglows, the Platters and Ray Charles as primary influences. Later he got into Louis Jordan, Amos Milburn, Little Walter, Sonny Boy Williamson and a lot of other blues players with Robert Jr. Lockwood being his biggest influence in term of guitar. "By 29 I was playing guitar in a blues band called "Rocket 88." I then took over the band as the singer. (Sadly, that was the end of my being a serious guitar student, since I had to sing and manage the band.) We played Chicago blues and 50's r&b, and a few rockabilly tunes. The band broke up and I decided to do rockabilly."
He pursued "I was living with a great blues band called "Powerhouse," and the guitar player was my guitar teacher: Tom Principato. One of our roommates knew Bill. Bill liked the old Elvis rockabilly tunes, and the roommate told Bill that I sang some of that stuff, so Bill and I met. I played Bill some Link Wray instrumentals the first time we met, and when I saw him next, he had them all down."
The pair began to look for a rhythm section and after a couple of gigs with a drummer and a bass player ("Mostly we played country & western bars".) they found Sarah Brown (bass guitar) and Terry Bingham (drums). Both previously played with Johnny Nicholas and the Rhythm Rockers who at that time broke up. "We began playing the blues bars a lot, and things happened fast after that. We became one of the top bands in Boston".
In 1979, the quartet recorded a few songs (Draggin', Baby let's play house, Rumble, Lindy Rock and Don't mess with my ducktails) and a 7" (Lindy Rock/Ducktails) was released before Big Beat a French Rockabilly label ( "My wife of French grandparents got a contact to Jacky Chalard, and we sent him a tape") got interested and published a 10".  By the time "From Boston to Memphis" had been released Lynn Farrar had replaced Brown.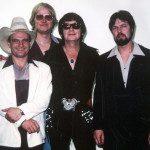 The band then toured Europe and France in particular where they were hugely popular with this time Preston Hubbard (formerly of Roomful of Blues) on slap bass.
This line-up was broadcasted on national French television on a show called the Bop'n'Roll Party held by Wolfman Jack with Jack Scott, Crazy Cavan, Freddy Fingers Lee and French band les Alligators. Despite what Spencer said about not being on top form ("The "Bop 'n Roll Party" was shot in Jan, 1982 in Paris. I had been sick for several weeks, and was just getting over it when we left for Paris. My memory of the event is personally painful, because I lost much of my voice by the end of the soundcheck. So when I hear the audio, I can hear myself struggling more & more. But that's just my perspective. It was fun other than that.") this is an amazing show and it's hard to believe him. The Memphis Rockabilly Band literally steals the show. They perform songs from their records (Lindy Rock, 16 Chicks) a superb rendition of Muleskinner Blues (inspired by The Fendermen version) with powerful voice from Spencer (and crazy stage antics on Nervous Breakdown), amazing guitar licks from Coover who blends Rockabilly, Western Swing and more all together while Bingham and Hubbard provide the beat.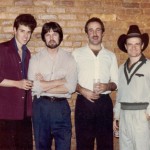 Their debut lp was recorded around the same period when the band was at its top. It contains 12 covers played in their own way. As their cover of Link Wray's Rumble previously showed, they didn't limit strictly to Rockabilly with Ernest Tubb's Nearly Lose your Mind that features an amazing country swing guitar solo from Bill Coover and the blues touch of The Stroll with sax and piano. It's a shame this jewel had never been reissued. The singer remembered ""Bertha Lou" on Big Beat was our first attempt to do an album. We produced it ourselves, and I expect we would have done better with a producer who knew what they were doing. We added the older tape of "Lindy Rock," which was my first original. I had written a few more by that time, but we didn't record them."
The band toured heavily appearing wth Gene Summers, Jack Scott, Jerry Lee Lewis, Link Wray and Carl Perkins who sang their praise (the best Rockabilly band I have ever seen). In the same interview Spencer evoked Mister Blue Suede Shoes "There have been many special shows, but it was Carl Perkins who stands out. We did 3 or four shows with him and he was very gracious and complimentary. Unlike Jerry Lee, Carl watched our shows. He had us onto his bus and hung out with us. I was told he put my version of "Ducktails/Lindy Rock" on his home jukebox."
By 1984, Hubbard had left to join The Fabulous Thunderbirds and various musicians took over the bass duties including Rory McCloud, Jon Ross and Jeff Lowe. They recorded some demos that were later gathered with older stuff by Blind Pig to release "Betty Jean" in 1986. The quartet kept on playing until 1989 but decided to call it quit. From one day to another, Spencer's life change drastically "I quit playing altogether in Jan. 1989. I sold my guitars and amplifiers. I did not sing or play a note, nor did I go into a bar for over 11 years. I got a job, had a child. Most people I knew never knew I played music. I never played a note until I got separated from my wife. I bought a Roland digital audio workstation and started fooling around. I wrote "1 Ain't Dead" in 2000. I started jamming with people and sitting in with bands I knew."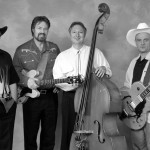 One thing led to another and by 2005 Bill and Jeff reformed the Memphis Rockabilly band with Paul Justice (bass player of Fat City) and Milt Sutton on drums. They went back to Europe where they were warmly received and recorded a new album for Big Beat titled "Roll, Rock and Rhythm" featuring Spencer's original and classic covers. Some were recorded by Spencer on his Roland, other were recorded at Duke Robillard's studio and two songs were lifted from the band performance at Vergeze the same year. The Memphis Rockabilly Band kept touring though there was, according to Spencer a huge difference between the 70's and the 00's: "Back then there was a healthy club scene. We would pack people into a club, and have lines down the street. Now most of the clubs are gone. If a club draws 100 people, that's considered pretty good. There are many reasons for this, but mostly it's that the younger people, 20's and 30's, and even 40 year-olds don't go out as much, and don't support live music, especially roots music."
Sadly, on January 11, 2009, Jeff Spencer passed away of a heart attack. One of the best and most original voice of the Rockabilly revival became silent.
Coover decided to carry the torch with a new singer (Roy Sludge) who also doubles on keyboards but no recordings have been released yet.