Swampy's (the) – Come Back To The Swamp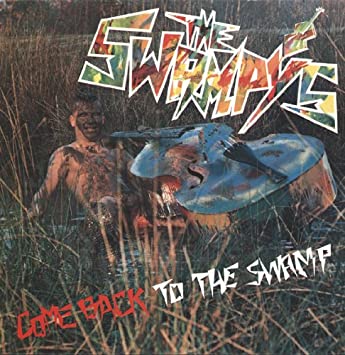 Kix4U [1989]
Pretty in Pink – Rockhouse – Home Sweet Home – Tainted Love  – Fly Story – Cinderella – Iron Man  – Come Back to the Swamp – Love Me – Bug Attack – You Drink Too Much – Tear It Up 
The Swampy's recorded the follow-up to their debut ep in September 1988. It was first self-released by the band, then Kix4U licensed it, giving it a better distribution.
On many aspects, Come Back to the Swamp is a more accomplished effort than Psycho Swamp. It is better produced, better recorded, better played, and better sung with many outstanding originals, including one instrumental (Bug Attack.)
You have to be a very tight band to play that brand of fast Psychobilly, and the Swampy's, at the time of these recordings, were on top of their form. The double-bass is just insane. Jo, their double-bass player/singer, also progressed in terms of singing. His voice shows more subtleties ranging from the threatening voice to a more neo-Rockabilly vocal.
The best way to hear the band's evolution is to compare the two versions of Tainted Love. Needless to say that the second one is far better and is a highlight of the Psychobilly genre.
---
Swampy's (the) – Psycho Swamp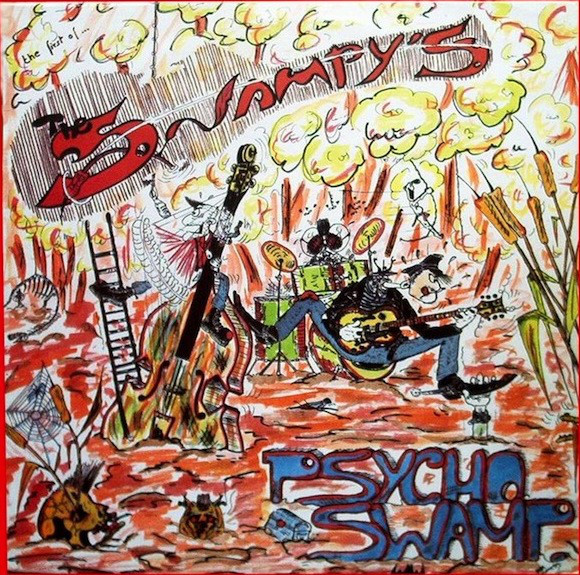 Self-released [1988]
Domino – Psycho Swamp – Tainted Love – The Coffin Maker
Coming from Belgium, the Swampy's, recorded Psycho Swamp their debut mini-album in 1987. It has the defaults and the qualities of the youth. Despite a powerful slap bass, the Swampy's are not what you could describe as accomplished musicians, and some arrangements are a bit loose. On the other hand, it's joyful, full of vitality, exuberant, wild, raw, and primitive. Everything that makes you buy a psychobilly album. Don't you agree with me?
Two of the songs are originals. If their instrumental is average, the Coffin Maker is excellent. The other two songs are covers. The first one is a hardly recognizable version of Roy Orbison's Domino with a total change of melody. The second one is Gloria Jones' Tainted Love, which takes things where Dave Philips and the Hot Rod Gang left them and add a massive dose of craziness.
On a side note, if there's an award for the ugliest Psychobilly cover, the Swampy's would be a strong contender.
The Radioactive Kid