Pharaohs (the) – Blue Egypt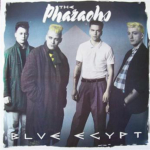 Nervous Records NERD020 [1986]
Crazy Love Records ‎– CLCD 6486 [2001]
Wild Thing – Tomb Of The Dead – Keep On Running – Radar Love – Wipe – Dead To The World – Theme From Cairo – Down The Line – Killed Love – Blue Egypt – Drinkin' – Never Coming Back – Smell of Cop* – Crazy and Wild* – Turkey Dance* (*CD only)
The Pharaohs were a Psychobilly band with strong rockabilly roots. After a show at the Klub Foot, Roy Williams of Nervous records proposed them a record deal, and the result was Blue Egypt. The line up on this album is Glenn Daeche (vocals, rhythm guitar), Ben Evans (lead guitar), Jeff Horsey (double bass), and Nick Becker [drums.)
Blue Egypt opens with a cover of The Troggs' "Wild Thing." It's not bad, but it doesn't bring anything new to the title, especially if you compare it to the Meteors' version. Things get better with the second song. Written by Daeche, it's a very original tune with changes of paces, organ, and a bizarre atmosphere. "Keep on Running" is a cowbell and drum fest and has a very pop feel.
They play Golden earing's "Radar Love" at a frantic pace and gives it a mean approach that the original (and the Restless cover) doesn't have. "Wipe Off" is a simple but highly effective instrumental. "Dead to the World" is a melodic Psychobilly tune that demonstrates what a great songwriter Glenn Daeche is. "Theme from Cairo," the second instrumental of the album, brilliantly blends surf with psychobilly and a touch of spaghetti western too. It evolves into a crazy version of Orbison's Down the Line. Another killer track by Daeche, the slap-bass propelled Killed Love, shows how blurry could the difference between neo-rockabilly and psychobilly be in the mid '80s.
But the best is yet to come with the highly original Blue Egypt, both melodic and powerful. From the start, the Pharaohs had more ideas than the usual horror and ghouls cliches, and their songs were different than just fast-paced rockabilly tunes. Blue Egypt encompasses all that. "Drinkin'" has a laid back feel, kinda jazzy with piano and acoustic guitar. The original album ends with the rocking "Never Coming Back."
The cd version features three bonus tracks, including Crazy and Wild a little gem, taken from Zoch Factor One and Three as well as Psycho Attack Over Europe.
The Radioactive Kid
Share the post "Pharaohs (the)"