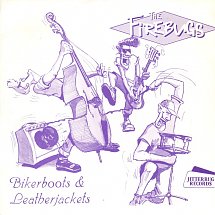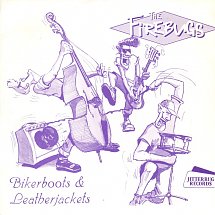 Firebugs (the) ‎– Bikerboots & Leatherjackets
Jitterbug Records ‎– BUG 90 004 [1990]
Bikerboots & Leatherjackets / Thrill To Kill
The Firebugs were a German trio from Bielefeld formed by Jörg Plachetka on double-bass, Martin Schwedes on drums, and Thilo Pieper on guitar.
They recorded their debut single in 1990 with two original songs.
Bikerboots & Leathejackets is a super-fast neo-Rockabilly with a clean and sharp guitar solo as good as anything done by the Nitros. The B-side shows some jazz ingredients and could be seen as a neo-Rockabilly version of a song from The Threepenny Opera.