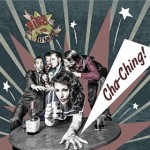 Nina and the Hot Spots – Cha-Ching!
Part records [2015]
Get Up – Rock Me Crazy –  Schwing Dich –  Farmer Girl – I'm In Love
A good and varied five songs ep by this German combo. Get Up and Rock Me Crazy are two Rock'n'Roll and Jive tunes with solid saxophone with a touch of Jazz that are sure to please fans of the Stargazers. Schwing Dich is sung in German and leans more toward German Rock'n'Roll singers like Conny Froboess or Peter Krauss.
Farmer Girl is a duet with a strong hillbilly flair, with nice finger picking guitar and harmonica. The last song is a slow blues-jazz number that sounds as if it had been recorded in the wee hours of the morning in a small and smoky jazz club.
Fred "Virgil" Turgis
Share the post "Nina and the Hot Spots"