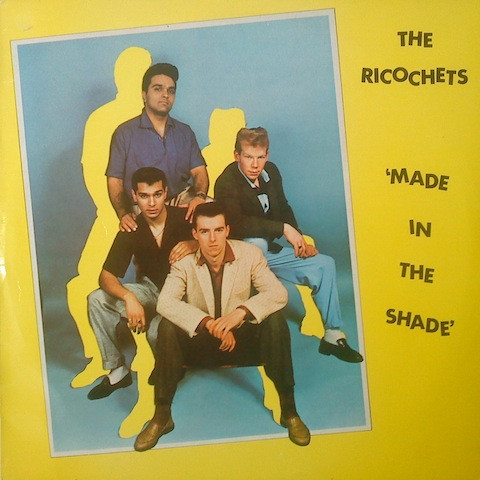 Ricochets (the) – Made In the Shade
Nervous Records NERD 005
Hey, Girl – Yomping – I'm A Loser – Crazy Dream – King Rocker – Black Magic Baby – Runnin' Wild – Hit Man – Worried 'Bout You Baby – Brand New Cadillac – Night Ship – Everybody's Rockin' (Live)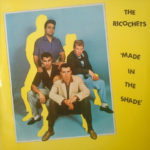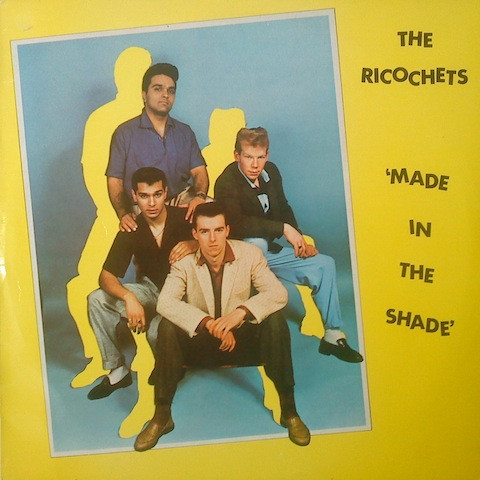 This album is a landmark in the history of Psychobilly in more than one title. Not only is it one of the very first albums to define Psychobilly, but it also inspired many young musicians to form their own combos. In addition, the Ricochets also had Sam Sardi, who later joined the Guana Batz, and Ginger Meadham, who drummed for the Meteors and later the Highliners, in their ranks.
The Ricochets first started under the name Pink and Black and played a more traditional style of Rockabilly. The original line-up featured Sam Sardi (double bass), Steve Sardi (guitar), Ginger Meadham (drums) and Dave (Sam and Steve's cousin) on vocals. But by the time of the recording, he was deeply involved in his day job, and Lester Jones replaced him. The legend says that Roy Williams went to hear them rehearse and was far from convinced until the band – not knowing that the label owner was still listening to them – started messing with more modern and adventurous stuff. A deal was quickly signed, resulting in a noticeable appearance on the compilation album Hep Cat Hop, followed by an album.
Being pioneers, the Ricochets invented the style while they were playing it. Hence, the band didn't feel contrived by rules and definitions. The Ricochets were playing the kind of music they liked, the way they felt and wanted to. The result is a fantastic album, built around a Rockabilly structure, featuring a frantic slap bass, with dark lyrics, and permanent anguish, elements of Punk (they cover Gen X's King Rocker), some garage with a Psychedelia flair influences (the magnificent Night Ship). Even a bit of Glam can be heard in their instrumental Yompin (they also covered Slade's Don't Blame Me for the compilation album Stack-A-Records, later reissued on the CD version of Made In The Shade). Even what could be pointed as a potential negative point (Jones isn't the most tuneful singer ever) turned to the band's advantage. His singing brings a strange and uneasy yet addictive feel to the songs, comparable in a certain way to what Nigel Lewis brought to the Meteors.
Shortly after the release of Made In the Shade, Ginger joined the Meteors and appeared on two of their legendary albums (Live I and Wreckin' Crew); Sam teamed up with the Guana Batz for a string of classic albums. In the late eighties, the original line-up of the Ricochets was reformed with Dave Sardi on vocals and released On Target for Count Orlock records.