Kevin Fayte and Rocket 8 – Ridin' In A Rocket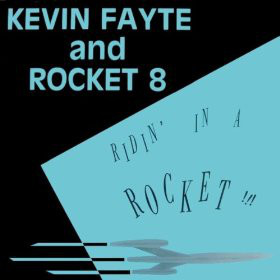 Nervous Records NERD 024 [1985]
Bluest Of Blue – County Jail – Money Talks – Blame It On The Moon – Hey, Baby – Gal O' Mine – Rock Candy – So What – Oh, My Little Claudie – Ridin' In A Rocket – Baby, I Know – I'm A Rebel – Big Ol' Sun – You Can't Come Out Tonight – I Don't Know – Teacher, Teacher – Get Off My Train – Movin' To Memphis – Bop, Man, Bop – Gonna Rock
Kevin Fayte and Rocket 8 were a traditional Rockabilly trio consisting of Kevin Fayte on vocals and guitar, Buster Fayte on vocals and bass, and Joe Snare on drums. They seem to be forgotten today, which is rather unfair. Maybe they came too early. When most of the bands were trying to follow the Stray Cats paths, Kevin Fayte and Rocket 8 choose to remain faithful to the Rockabilly of the origins.
The band formed in 1983 and disbanded around 1986. In between, the trio managed to release this album consisting of twenty original songs, penned by the band members, but their producer, Gary Rebholz, also contributed to the songwriting. One could fear that twenty tracks are a tad too much for a rockabilly album, but the songs are short, and since both Kevin and Buster share the lead vocals, they manage to keep variety all along the lp. Most of all, they really knew how to write songs, focusing on the melodic aspect.
This excellent album deserves to be rediscovered today.
Fred "Virgil" Turgis