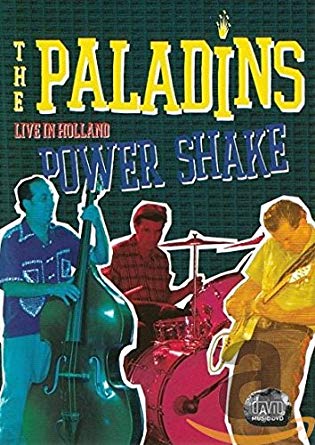 Paladins (the) – Power Shake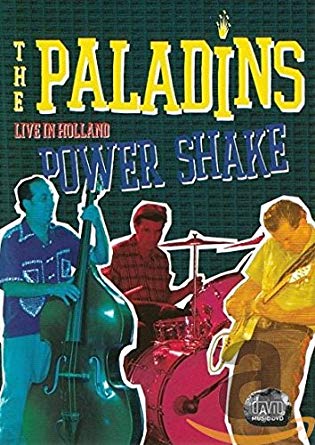 DaViD Music Group
Let 'er Roll – Power Shake – Goin' To The City – Hot Rod Rockin' – Lookin' For A Girl Like You – Slippin' In – Lil' Irene – Treat Me Wrong – Slow Down – It's Too Late Baby – Tore Up – Going Down To Big Mary's – You Make It They Take It – Make Me Feel So Good – Kiddio – Follow Your Heart – Let's Buzz – 15 Days Under The Hood – El Matador – Bad Case Of Love – She's Fine – Mercy.
Powershake is an excellent DVD (also available on cd) recorded in Holland, and with 22 songs and 101 minutes, it's a good value for money too. It's also a chance to see them live in your living room. Well, no big surprise here you've got the usual mix of styles that the Paladins usually play: blues, rockabilly, rock'n'roll, country, and even a hint of surf here and there. If you're familiar with the band, you can see that they drew songs from all their albums, with all their classics (Big Mary's, 15 days, Let's Buzz…).
The DVD itself is very well filmed with a lot of cameras and not too many effects (the kind of camera movements that give you seasick). So, two choices for you: you're already a fan, and this one is a must-have for you, you don't know the Paladins, and this DVD is the best best-of you could ever dream of.
Fred "Virgil" Turgis
Paladins (the) – Years Since Yesterday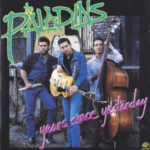 Alligator records – ALCD 4762 [1988]
Years Since Yesterday – Good Lovin' – Going Down To Big Mary's – Happy Home – She's Fine – Your New Love – You And I – Don't Stay Out All Night – Mean Man – Right Track
For their second long-play, produced by Mark Linett and Steve Berlin of Los Lobos, the Paladins joined Alligator, the legendary blues label. Thus it's not much a surprise to find a bluesier influence than their previous effort, whether it's the blues shuffle of the title track, the menacing Happy Home, Titus Turner's Down at Big Mary's, or She's Fine, a jump blues with organ.
Yet, there are plenty of rocking too, with Rockabilly tracks mostly sang by bassist Thomas Yearsley, like Good Lovin', Right Track and Mean Man, an absolute Rock'n'Roll blast.
No good album would be complete without a ballad. You and I, later covered by Dave Vanian, fills this gap brilliantly.
The rhythm section is tight and steady, allowing Dave Gonzales to expand his guitar play, providing hot and blistering solos throughout.
With only ten songs, it's an all-killer no-filler affair.
Fred "Virgil" Turgis