Beverley Stauber – Good Love / Oh Baby
Pee Wee Records PWR1007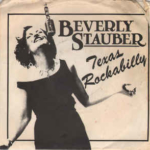 Beverly Stauber is not a great singer. She's not always in tune, and her voice could even make you cringe. Released on the tiny Texas label "Pee Wee" this single features two covers (from Janis Martin and Barbara Lynn .) It would go unnoticed if it weren't for the backing band.
On side A you find two-third of the Paladins in the person of Thomas Yearsley and Scott Campbell. These recordings dating from 1985, it predates, to my knowledge, anything recorded by the Paladins. The same goes for side two which features Ted Roddy and a young James Heath (aka the Reverend Horton Heat) which only appeared on a Teddy and the Tall Tops single prior to this.
Both songs appeared on a full-length cassette featuring the same line-up.