Ten Strike – Rawkabilly
Trail To Hell – That's Right – Under Vultures – Lonely Nights
Hailing from Germany, this trio played a mixture of wild rockabilly and what is now called old school psychobilly. They started in the 80's, had an album on Tombstone Record in 1989 (Outlaw) and supported acts like The Guana Batz, Stray Cats, The Keytones and The Frantic Flintstones. On hiatus for a few years the band returned with this mini lp. The slap bass led mid-tempo "Trail To Hell" has a fine cowboy ballad feel. The singer's voice on this one reminds a bit of the dutch bands The Tigermen and their song "Gone, Gone, Gone" for those who remember them. "That's Right" is maybe more classical, a fast rocker with a psycho edge but nonetheless very pleasant. Under Vultures is a new version of a song from their Outlaw lp, and has that fine 80's neo-rockabilly in the chorus I like so much with backing vocals and stop-starts with slap bass solos. This too short ep ends with "Loneley Nights" a slow tempo with a bluesy feel. The overall production work is very well done and the songs are all written by the band.
Fred "Virgil" Turgis
---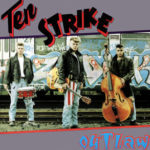 Ten Strike – Outlaw
Tombstone – Tomb-Disc 681  [1990]
No More Reason To Cry – Long Legs – Under Vultures – Wide Open Land – That's Right – Country Playin' – Outlaw Man – Bound To Die – She Ain't No Good – Wheels Of Steel – Don't Look Now – 51 Merc – So Many Times
First long play by this German band released in 1990. The line up on this record is Jürgen Fröhlich on Guitar, Vocals, Peter Urban on Double Bass and Jochen Vaupel (who previously played in the Swamp Dogs) on drums.
This is a classic neo-rockabilly album with twelve self-penned songs and one interesting cover of Creedence Clearwater Revival's Dont Look Now.