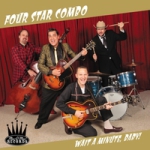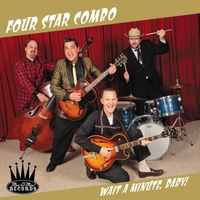 Man-O-Man Records 1001 [2014]
Wait a Minute, Baby – (I Got) a Hole in My Pocket – Conscience to the Wind – Beehive Baby – Down in the Alley – Buzzsaw – Croc-O-Doll – Lover Not a Fighter – Slipping Out and Slipping In – It's Love, Baby (24 Hours a Day) – Jeepster – Blue Tricks
Wait A Minute Baby is the band's debut album, though they already relased one demo with their former bass player.
The Four Star Combo is Ron Scott on lead vocals, guitar and harmonica; Eric Hurtt on lead guitar; Donovan Stokes on double bass and Drake Sorey on drums.
The album kicks off with amid-tempo rockabilly with nice picking from Hurtt and a good balance between the bass and the drums. Things get more frantic with their cover of (I Got) A Hole In My Pocket that even has a slight neo-rockabilly feel in it (but not enough to hurt the purists). Back to a more traditional sound with the hillbilly tinged Conscience to the Wind that has a bit of "Heartache by the Numbers" flair in the melody. Beehive Baby is another one on the neo-side and reminds a bit of Levi Dexter. They turn Memphis Minnie's Down In the Alley into a solid rockabilly-blues stroller while Buzzsaw is a surf instrumental that shows the diversity and the skill of the band. Next is Crock-O-Doll,a Rockabilly/Rock'n'Roll number that wouldn't be out of place on the Ripsaw label, think Billy Hancock. Back to Rockabilly-blues with Lazy Lester's Lover Not A Fighter that sees lead singer Ron Scott playing some harmonica. It's time for lead guitarist Eric Hurtt to take the lead vocals on a period perfect cover of Slipping Out and Slipping In. It's Love Baby is straight ahead blues with once again a top notch guitar solo, it's just too bad that Scott kept his harmonica in his pocket on this one. Some would find surprising to find a cover of T-Rex on Rockabilly album but if you remember the Polecats version you know it suits the genre perfectly. They deliver a good version though Scott seems a little less at ease on this one than on the other songs. Blue Tricks ends this good and eclectic album on a fast paced note.
Fred "Virgil" Turgis