The Punishers – Beat Me
Rumble Records [1992]
Sexy Sewer – Zombificatet – Beat Me – Red Rain – Midnight Dog – Virgin – Desert – Fish of Death – Freddy K. (Is Not Dead) – Stone Cold Rubber – Born to Be Wild
The Punishers came from Germany and were Sascha Walczyk (vox), Olaf Raffel (Guitar), Frank Schmitz (bass), and Roland König (drums) and released this album in 1992. They were part of this wave of bands that tried to cash on the psychobilly trend but were at best Punk rock or heavy metal with a double bass. Captain Coma is an excellent example of that sound too. This album consists of poorly inspired melodies, the usual horror cliches (Freddy K is not dead), a particularly lousy cover of Steppenwolf's Born To Be Wild, and a singer who'd like to be Sparky (but is not). Add a muddy production with the guitar on the front, a barely audible bass, and a vocal far, far away, and the result is a dispensable album.
---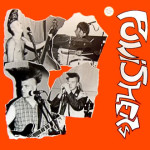 The Punishers – House of Rock'n'Roll
Rumble 12GANG008 [199?]
House Of Rock'n'Roll – Punisher Boogie – Sick Without You – Pervy Dance
Don't expect to hear any change or difference between "Beat Me" and this ep: it's is in the exact same vein. Loud, poorly produced, uninspired, and boring, even with only four songs. Avoid it if you can.
Fred "Virgil" Turgis