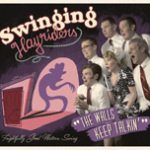 Vintjarn records – VIN027 – 2014
Heart Attacks / Eatin' Right Out Of Your Hand / You Better Wake Up Babe! / Great Big Needle / Skylark / (Don't Roll Those) Bloodshot Eyes / Fan It / Cowboy Stomp / Cow Cow Boogie / Bring It On Down To My House Honey / Welcome Mat / Blue Skies / Sick, Sober And Sorry / I've Taken All I'm Gonna Take From You / The Walls Keep Talkin'
The Swinging Hayriders are a six-piece band from Sweden. The line up consists of Maria Stille on vocals, Peter Anderson on steel, Mats Bengtsson on piano and accordion, Johan Ek on guitar, Ulrik Jannson on double bass and Patrick Malmros on drums.
As Dave "Pappy" Stuckey puts it in his laudatory liner notes, Maria's voice brings to mind other belles of the West like Carolina Cotton or laura Lee McBride. The bad is equally good providing solid and inventive musicianship with tight arrangements with twin guitars (Anderson shows he assimilated the styles of the great masters of the instruments, old or new like Jeremy Wakefield) and, last but not least, swing (don't laugh, too many so called western swing band are just rockabilly band with steel and fiddle). Recorded by the magic fingers and ears of Axel Praefcke and Ike Stoye at Lightning Recorders in Berlin, the sound is top notch.
If, old grumpy that I am, would really try to find a flaw to this album, it would be the lack of original material. Their set consists of well-know classic from Hank Penny, Bob Wills, Spade Cooley, the Light Crust Doughboys as well as a couple of jazz standarts thrown in like in the good old days (Blue Sky, Skylark). But it remains a minor flaw compared to the excitment this record gives.
Last thing: it comes in a superb digipack designed by Chris Wilkinson of the Zazou Cowboys.
Fred "Virgil" Turgis