Wheels Fargo and the Nightingale – At the Hayride
Part Records {2014}
Intro – Love Me To Pieces – Hogtied Over You – My Hillbilly Boys – It Makes No Difference Now – It's My Lazy Day – I'm Talkin', Walkin' – Jealous Heart – Ugly And Slouchy – Honky Tonk Hardwood Floor – Keep Your Hands Away – Juke Box Blues – Divorce Me COD – Pistol Packin' Mama – The Christmas Presents' Blues – Lookin' At The Moon – Lone Gone Lonesome Blues – Rocky Road Blues – Loose Talk – Bo Weavil
Despite its name "At the Hayride" is not a live recording but a solid 20-song studio album.
Though I wasn't totally seduced by their previous effort, I must say that this one marks a big improvement. With a full array of stringed instruments (mandolin, banjo, fiddle, steel guitar, guitar…) they rip through a set of Maddox Brothers and Rose influenced stuff with bluegrass, a bit of  honky tonk and some western swing and rockabilly thrown in for good measure. A fine cocktail if there was one.
Antonella – aka the Nightingale – takes the lion's share of the lead vocals with her fiery, confident and powerful voice, but there's also some male lead vocals, a couple of duets and some fine harmonies one can expect from such a record.
The musicianship is solid too and they have a secret weapon with Matteo Ringressi who can play most of the aforementioned instruments and take all the lead parts but the electric guitar.
I just regret they didn't include more original material for their three self-penned songs are very good with a special mention to Christmas Present Blues.
Fred "Virgil" Turgis
---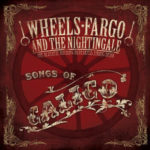 Wheels Fargo and the Nightingale – Songs of Calico
Part Records [2011]
Ain't Gonna Work Tomorrow – House Of The Rising Sun – Victorian Lady – Night Train To Memphis – Down Down Down – Foggy Mountain Breakdown – Cotton Fields – Foot Prints In The Snow – Rocky Top – Crazy Arms – Calico – The Auctioneer – Molly And Tenbrooks – T For Texas – Littlie Maggie – I Hate My Neighbor
This Italian band defines itself as "the ultimate rocking bluegrass string band" and, guess what, this is exactly what you'll find on this platter..
The songs come from the catalogs of Flatt & Scruggs, Bill Monroe, the Carter Family, Jimmie Rodgers, the Stanley Brothers and so on. As you can see we're in well known territory and a little bit more originality in the choice of the songs would have been better. In addition to these covers, Antonella, the lead singer, has penned three songs.
It's very well played and sung (though the Italian accent could be disturbing at times, but let's say it adds to the charm) but lacks of that little extra something that makes the difference between average and good records. It's too bad because their originals are quite good, especially I Hate My Neighbors, and a full album like that would have been far more superior.
.Fred "Virgil" Turgis