Wild Ones (the) – Feelin' Good
Migraine Bop 32 [2018]
Feelin' Good – I'm Coming Home
One of Europe's best rockin' band returns thirty years after its latest release. I really liked the Wild Ones back in the days and to be honest I didn't know what to expect with this new release. Would it be as good as their old recording, Wouldn't it tarnish the legacy of the band? What if Dee had lost his voice? My fear quicky vanished as soon as I played the record. The Wild Ones still have it and with the help of Tony LaMonica their newly recruited guitar player they rock like hell.
These two sides are full of rockin' blues with mean guitar and equally mean blues harp (and yes, Wild One Dee still has his voice). Now, let's just hope this is a warming up before a full LP.
Limited edition.
---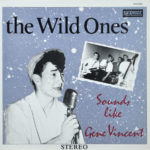 Wild Ones (the) – Sounds like Gene Vincent
Rockouse – MLP 8804 [1988]
Wildcat Boogie – Two Eyes – Ain't She Sweet – It Won't Work – My Baby She's Gone – In My Dreams – Cruisin'
With such a title and musicians dressed like the Blue Caps circa 1956 you won't be surprised to find more than a strong Gene Vincent influence on this mini-lp.
In My Dreams, Cruisin and Ain't She Sweet are lifted from the Sreaming Kid repertoire and a fourth cover, Two Eyes, is a Tommy Steele song. They are played with the right energy and intensity in the vocals and the guitarist is good enough to play some Cliff Gallup inspired parts and despite being very close to the originals, they are not just note for note versions.
The remaining three songs are penned by the band's singer Didier Borra.
Both It Won't Work and Wildcat Boogie previously appeared on a single and sound as good as anything the early Blue Cat Trio released. Though there's no indications of recording date or place, one can assume that all the songs come from the same sessions, or at least the same period, that is to say 1983.
The remaining song, My Baby She's Gone, is by far the best of the album, opening with a strong slapping bass for two and a half minutes of Rockabilly. It would later be reworked under a new title and with a new sound for the band's debut album « Crossroads ».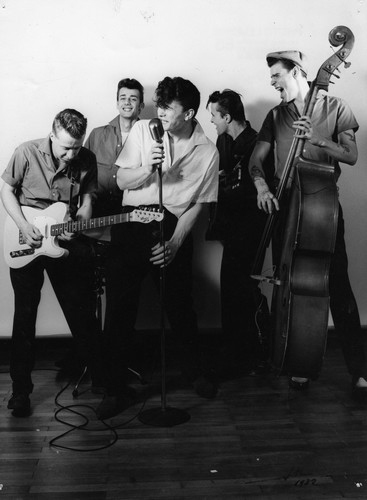 Share the post "WIld Ones (the)"