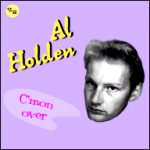 Al Holden – C'mon Over
MCG1020082
Golden rocket – My baby left me – Sweet love – My happiness – C'mon over – Little darlin – Tomorrow night – Don't come knockin' – Leavin' it all up to you – Just walking in the rain – Little cabin on the hill – Train train – Fool fool fool – I'm beginning to forget you – My heart will be true
An excellent album of Sun inspired Rockabilly (mostly Elvis but also Carl Perkins) featuring members of the Crawdads and Chris Cumings (Riverside Trio) on bass, steel and guitar. Half of the songs are Holden originals, the other half are covers of Arthur Crudup, Elvis, the Prisonnaires, Bill Monroe and Jim Reeves.
Fred "Virgil" Turgis
Share the post "Al Holden"