Billy and the Sideburnzz – Rockabilly Man
Keil Records [2022]
Rockabilly Man – Big Blue Eyes / Give Me A Call – Tease Me (A LIttle) – Bonus track (cd only): Rock Me Mama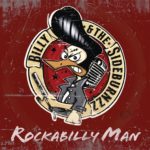 Here's another excellent release from Keil records. Billy & the Sideburnzz are a Rockabilly band from North Germany. This is their debut output, and it comes in a super fine and limited package, including a 4 -track vinyl EP and a mini-cd with a bonus song.
The set opens with Rockabilly Man, a mighty fine piece of hard-hitting modern Rockabilly that echoes the Polecats' Rockabilly Guy. It's the kind of stuff that makes you stomp the ground while firmly holding your beer. The second song, Big Blue Eyes, leans more on the traditional side of the Rockabilly idiom with a slight country flair. It features a light brushed snare and nice picking too. But for me, the best track of the selection is Tease Me. It's a slow number that takes time to build tension that perfectly suits the song's theme. It's always on the edge, with two superb and exploding guitar solos. Give Me A Call is a mid-paced tune with a powerful (and I mean POWERFUL) slap bass. The song also features one hot Burlisonian guitar part but with a modern approach.
The fifth track, Rock Me Mama, is only available on the cd. It's an excellent Mystery Train/My Baby Left Me type of tune.
Great job, guys. I hope to hear more from Billy and the Sideburnzz in the future.
Available here.
Chech the band's website.
Fred "Virgil" Turgis