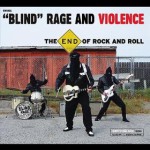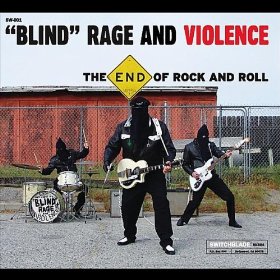 Switchblade Records SW-001  [2012]
The Strutter – UFO On Farm Road – Blind's Big Bonanza – Treat Her Wrong – Headless Chicken – Cat-O-Nine Crawl – We Got A Band Reputation – That Thing Hoodoo – Blind Fought The Po-lice – Baby Baby Baby Baby Baby Blue – Bacon Lube – Who Loves You Three Ways, Baby – The Shiv – Broke-Ass Blues – She's So Fine, I Wish She Was Mine – Your Last Date
Blind Rage and Violence is a brand new band inspired by Link Wray. The members use aliases but I strongly suspect Deke Dickerson to be Blind Rage like he was the Donut Prince in the Go Nuts and Jethro "the double-neck Daddy-o" Presley in the Keystone Boys. Like wise Chain Link on bass and Hot Link on drums could probably be Pete Curry (the album being recorded at his studio) and Deke's partner in crime Chris Sugarballs Sprague.
With such a band name, it's not a surprise to find them play powerful Rock'n'roll mixed with garagey Punk and, as said before, Link Wray inspired stuff (Headless Chicken, for example, being an obvious reference to Run Chicken Run). It's mostly instrumental with occasional vocal numbers. There's no song credits but some tunes are easily recognizable though appearing under a different name or with adapted lyrics to match the concept of the end of Rock'n'roll. Thus, Blind Fought the Police, That Thing Hoodoo and Who Loves You Three Ways are respectively instrumental versions of I Fought The Law, That Thing You Do and Love Me Two Times. The same treatment applies for the vocal numbers, Roy Head's Treat Her Right becoming Treat Her Wrong. You get the idea? One will also find covers of Gene Vincent's Baby Blue and the Easybeats' She's So Fine (an earlier version of this song appeared on Deke's rarities album, Mr Entertainment).
Fred "Virgil" Turgis