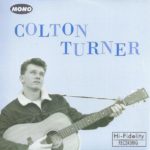 Colton Turner – S/T
Self released [2017]
Rock It – Truly – Honky Tonkin' Ain't What It Used To Be – Don't Forget – Drifting – How Many Times – Live By Night – Rock-A-Bye – Won't You Come Back Home – I Miss You Baby – That's Right – Saturday Night
With the exception of Alberto Telo their drummer who played with the Horton Brothers and Shaun Young, I have to admit I don't know much about this band. I assume they come from California and used to play in a band called the Senders. That's pretty much all that I can say except that besides Colton Turner on vocals and Alberto Telo on drums the other musicians are Zane Turner on lead guitar and Yari Bolanos on upright bass. But that doesn't matter since what is really important is that album. And trust me, this is one of the very best Rockabilly album I've heard in ages.
It's made of twelve originals with a majority of mid-tempo Rockabilly, some Honky Tonk here, a slow tune there and a wild number thrown in for good measure.
Colton Turner sure knows how to write songs and icing on the cake, he has the perfect voice to sing them. A true Rockabilly voice (with hints of Johnny Maccree of the Smith's Ranch Boys mixed with some Carl Perkins too.)
Recorded at Fort Horton by Billy Horton (talent knows talent), this album blew me away from start to finish. When I first played it, it took me back to 1990 when I listened to "Fly Rite with Big Sandy and the Fly Rite Trio" for the very first time. Yes, Colton Turner and his band are THAT good.
Available at Swelltune records.
Fred "Virgil" Turgis