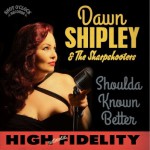 Dawn Shipley & the Sharpshooters – Shoulda Known Better
Shot O Clock Records SOC-CD-003 [2015]
Mad About You – Don`t Want Your Lies – Shoulda Known Better –  Blood Suckin` Poppa –  Voodoo You –  That`s The Way I Feel –  Impossible – All I Can Do –  Little Too Late –  Your Only Gal – Forever Or Goodbye
After a vinyl single and a download only song, Dawn Shipley returns this time with a brand new lp recorded by Shorty Poole (of Dave and Deke Combo fame) with some of the finest musicians on the scene like Kevin Stewart (Big Sandy) and Carl Sonny Leyland.
With 10 originals and one cover (jimmy Pritchett's That's the Way I Feel), it's a good and varied album with swingin' stuff (Your Only Gal), Rock'n'roll, boogie and of course plenty of rockabilly.  Keeping it short is also a good point, it contains no filler and avoids the repetition. The best song is, for me, the hard to classify Voodoo You, that mixes gypsy acoustic guitar, piano, haunting mood and superb vocal.  Forget what I said about short album, she could (should!) have done 10 more songs like this one.
What I really like with Dawn Shipley is that she never tries to sound or to be what she's not. How many female singers try to sound wild or to be the new Wanda Jackson with mannerisms that sounds totally artificial as if they learned it in a book called "Rockabilly for dummies". Shipley sings with her own voice and heart and that's why her albums are always enjoyable.
Buy it at http://www.dawnshipley.com/store.html
---
Dawn Shipley & the Sharpshooters – Mad About You b/w Sugar Mama.
Dawn Shipley is back! At last! Her latest record was Baby If I and  dates from 2006. One can say that this lady knows how to create the desire. Was it worth the wait? You bet!
The first part of her recording offensive comes in the form of a superb 45 rpm on red vinyl (downloads available too for you crazy nerds) recorded at Pot O'Gold Recording Studios in Orange County, CA. It features two self-penned songs: Mad About You b/w Sugar Mama.
A side is a rockaballad with a slight 60's feel and a bit of Buddy Holly into it. The song is very well built with a nice latin variation in the chorus and a short but great guitar solo by Jose "Watts" Rodriguez (also worth mentioning are Tony "T-Mac" Macias on upright bass and Aaron Martinez on drums). It's backed with Sugar Mama a fine rockabilly/rural bop with a Sun feel. Attention folks it's a limited edition.
Then you have "Little Too Late" which is available only in mp3 format. This one is more rockin', with a more agressive guitar, also played by Jose Rodriguez but this time backed by Jordi Hereu on bass and Jeff "Hobo" Gerow on drums.
Both are available at cdbaby but don't forget to pay a visit to her homepage.
One can only hope that her next move will be the release of a long play (but if she comes with a 10″ mini album, I won't complain!).
---

Dawn Shipley & the Sharpshooters – Baby If I…
El Toro Records
Bear With Me Baby – Sealed With A Kiss – Baby If I… -. Empty Stretch Of Highway – Make Believe – I'm Gonna Set My Foot Down – Anyone But You – Crazy Dreams – Sharp Shootin' – Goin' Crazy – One Cup Of Coffee – My Rockin' Baby – Full Moon Keeps On Shining – You're The Only One – Empty Stretch Of Highway Version 2
You'll find a wide variety of genres on Dawn Shipley's second album. The opening track "Bear With Me Baby" is a solid rocking song with an early 60's beat. Of course, there's a majority of Rockabilles like "Anyone But You" (nice guitar work with some Scotty Moore echoes in it), the frantic rhythm of "Baby If I", the cover of Glen Glenn's "One Cup Of Coffee" and on the rural edge "full Moon Keeps On Shining". "Empty Stretch Of Highway" a haunting country song with echo on the guitar has some more modern vibes in it. It's probably one of the best cut of the album and I suppose I'm not the only one to think that because you find an alternate take more acoustic and slower that ends the album. On the "traditional" country side "Make Believe" is a true and classic Honky Tonk with good steel throughout and Patsy Cline's Crazy Dream is slightly played faster than the original, but is still a great country weeper. Warm voice, slight rhythm and jazz chords on the guitar are on the menu of "Goin' Crazy" a love song a la "Fever". "Sharp Shootin'" a fine hillbilly instrumental is another occasion for guitarist Joel Morin to shine on picking guitar and on steel. The rest of the band has to be credited too for their solid work on the album : Tony Macias on bass and Tony DeHerrera on drums. Good job.
Fred "Virgil" Turgis