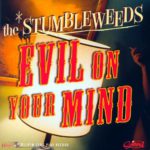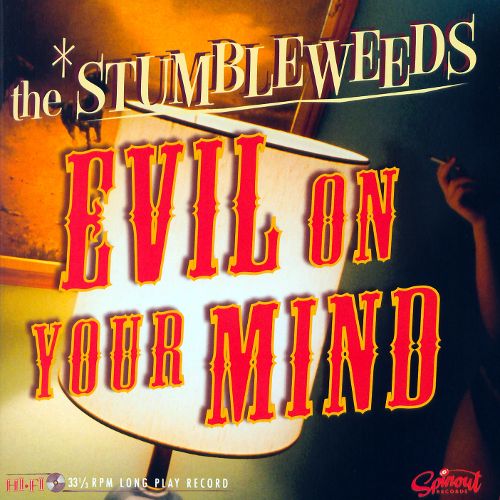 The Stumbleweeds – Evil On Your Mind
Spinout Records
Evil On Your Mind – Baby I Still Love You – A Girl Dont Have To Drink – Had Enough – Saving My Love – Only Mama – Hard Times Ahead – Running Out Of Money – Look Out Heart Doggone Thing – My Baby Just Walked Right Out On Me – The Trouble With Girls – I Love You Because – Pennsyltucky – Tearin' Up The Town
The Stumbleweeds are back with their second release! Good news isn't it? You bet. I really enjoyed "Pickin' and Sinnin'" their first album. It was everything one could expect from a band that plays 50's rockabilly mixed with a good dose of Honky Tonk (or vice versa). And Lynnette's voice was probably one of the biggest surprise. A real country female singer, influenced by her predecessors (Patsy, Charlene and Wanda) but in no way an imitation. A few years later and after some line up changes (Lynnette is the only member remaining) they issue this 15 songs record on Spinout Records. The sound changed with the line-up and they now tends to play a more 60's influenced country style of music.
The album opens with a great rendition (man, that slap bass sound !) of "Evil On Your Mind" (Harlan Howard via Jean Shepard). Six songs you'll find here has been sung one day or another by Wanda Jackson or Jean Shepard. But even the mood of the day is 60's honky tonk with twangy telecaster, you can't take the rockabilly out of that girl and their version of Janis Martin's "Hard Time Ahead" is here to proove it. Guitar player Denis Kelly is probably one of the best kept secret in the country guitar world. He can play straight Honky Tonk riffs, Bakersfield and is not afraid to add a little bit of rock from time to time ("Pennsyltucky") and some blues for good measure. Lenker's own "Baby I Still Love You" and "Doggone Thing" could have been written in the 60's. They both have great music (uptempo beat for "Baby" and classic Honky Tonk for "Doggone…") and fine lyrics and they stand proudly among their elder. John Fuller (remember "Nashville To Nashua" on their previous effort) contributes 2 songs : the unusual (but great) "Running Out Of Money" and "Tearin' Up The Town". Ex-Stumbleweeds Mike Feudale returns to write "Had Enough". This could be "one-more-country-song" but Lenker's voice and Kelly's guitar make all the difference. Another contributor to "Pickin' and Sinnin'", Chris De Barge, returns with "Pennsyltucky" another good one with change of pace for the refrain.What you have here is a great modern country album that didn't sell his soul. Even the covert art is perfect and matchs totally with the music.
Share the post "Stumbleweeds (the)"