The Ember Brothers – s/t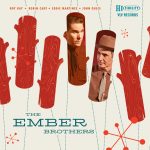 VLV Records [2021]
Hey Midnight – Lonesome Last Night – Fight My Lover – Sinking Blue – Tumblin' Down – Cast A Wish – Jealousy – Danger – Something Strange – I'm Here – Truly (I Love You) – Sings The Devil – Left To Wander
The Ember Brothers are a relatively young band formed by Roy Kay (vocals and guitar) and Robin Cady (double bass), both from the Roy Kay Trio. They are joined by John Olufs on guitar and Eddie Martinez on drums. The four of them also play in the Starjays. With such a bunch of talented guys, I wasn't too afraid about what I'd find on this platter. And boy was I right!
The quartet delivers a solid set of thirteen highly melodic songs with vocal harmonies reminiscent of the Everly brothers. The whole collection is enhanced by the jazz-influenced guitar that takes things to a whole new level and thus, creates a very unique and swinging sound.
Some songs are more Rockabilly oriented but always remain bouncy, with light drums, mostly a brushed snare.
Others have a slight 1960's feel. Jealousy, to name but one, sounds a bit like the missing link between the Roy Kay Combo and the Margraves, with a twangy guitar and assorted percussions.
The whole thing is always surprising and never predictable, with unusual structures and superb arrangements.
The band doesn't seem to care about falling in one specific genre and looks very happy to incorporate every kind of reference and style to build their own sound. By doing that, they're not that far from what Big Sandy and his Fly-Rite Boys achieved with Turntable Matinee, namely create a roots-oriented yet modern brand of music.
I couldn't recommend this album enough.
Fred "Virgil" Turgis