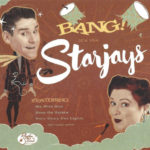 The Starjays – Bang! It's the Starjays
Rhythm Bomb – RBR5828 {2016}
Who Do You Love The Most? – The Right Girl – Flat Broke – I'll Wait – Nobody Loves You Like Me – My Wild Girl – Cadillac Of Woman – Keep On Talkin'- One Quick Stop – What's Gone Wrong? – Turn Down The Lights – Tintarella Di Luna – A Sin Comin' On – Get Closer
Led by Roy Kay (the Roy Kay trio\Combo, the Margraves) and Angela Tini (Angelatini and the Trebblemakers) and featuring the talents of piano wizard Carl Sonny Leyland, Marshall Scott Warner on drums, Tony Laborie on double bass, Sean Jensen on sax and Mike Geglia on guitar (also from the Roy Kay trio connection), the Starjays are a hot combo that plays rhythm'n'blues and rock'n'roll (and I mean real Rock'n'roll) with, for a song or two, a slight 60's feel. They reminded me of the Jive Bombers, the excellent and now defunct Austin based band that featured Shaun Young.
Roy Kay and Angela Tini share the vocal duties (solo or in duets) which brings a lot of diversity to this album. As she is probably lesser known than her partner Roy Kay who have quite a few albums under his name, I have to sing here the praise of Miss Tini's voice who manages to be powerful, subtle and dare I say a bit naughty (Get Closer), all that with a Ruth Brown vibe. Other names come to mind, but it would reduce Tini's own personnality that is present here from start to finish (understand "she has her own voice and she is no impersonnator").
All songs but two are originals penned by Kay and Tini. It's very well produced, recorded, sung (I've already said that, but better twice than never) and played, each solist having plenty of room to express himself.
And icing on the cake, it comes in a nicely designed digipack .
---
The Starjays – Jump With…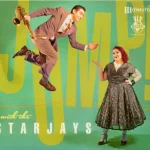 VLV Records [2021]
That's Love – Tomorrow Will Come – Prove My Love – I Can't Stop – I'm Stuck – You're For Me – Late At Night – Say What You Mean – Somehow, Someway – Is It Murder – Makin' Me Hungry – Calling Out To You
I won't try to fool you and create fake suspense, The Starjays return with a second album, and it's as good if not better than the first one. Roy Kay (Roy Kay Trio/Combo, the Margraves, The Ember Brothers) and Angela Tini still lead the band and share the vocal duties, either solo or duet. Kay also plays tenor and baritone saxophone. Having two vocalists brings a lot of diversity, and their voices are very complimentary. Most of all, Kay and Tiny have strong flexibility in their voices. Hence, their repertoire can go from hot Rhythm'n'Blues/early Rock'n'Roll to soulful ballads or pure dancing ditties. They're helped by a selection of very catchy songs and cleverly mix tempos and moods, from the lighthearted to the very dark.
The rest of the band features Robin Cady (also from the Roy Kay Trio) on bass, Eddie Martinez on drums, John Olufs on guitar, and Robert Lee Mitchell on piano. Each does a terrific job, and together, they constitute a very well-oiled jumpin' machine.
Jump on this record, then jump with the Starjays!
Fred "Virgil" Turgis