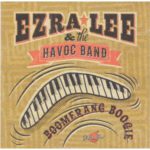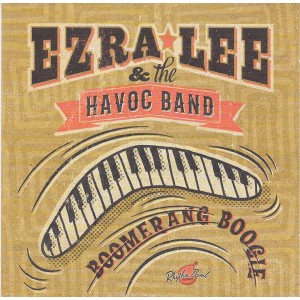 Ezra Lee & The Havoc Band – Boomerang Boogie
Rhythm Bomb Records – RBR 5823 [2016]
Boomerang Boogie – My Baby Wants To Rock'n'Roll All Night – Nasty Boogie – Is It Wrong (For Loving You) – Caught In The Middle – Honky Tonk Girl – Motorbilly Radio (Go Cat Go) – My Baby Dont Lie To Me – Tore Up – Honky Tonk Downstairs – Try To Forget My Name – So Long – Endless Sleep – She`s Tough – Let It Rock
For his new album, the third, for Rhythm Bomb, Ezra Lee teamed up with the Shaun Havoc band (Shaun Havoc on drums, Kevin Spiers on guitar, Pete Mavric on double bass and Mark McGurgan on tenor saxophone). To bring variety to the set both Lee and havoc takes the lead vocal duties.
If you compare to his previous albums, it shows a slight departure in term of sound. It delves more into the sixties and mixes rockin' blues, New Orleans rock'n'roll and country rock. Some songs evoke either Creedence Clearwater Revival or even the Flyin' Burrito Brothers like Motorbilly Radio (Go Cat Go). The later features a pedal steel while some other songs have a guest fiddle for a straight Honky Tonk sound (Try to Forget My Name).
The choice of covers reflects that eclectism too with songs coming from the catalogs of Champion Jack Dupree, Charlie Rich, Jody Reynolds, Fats Domino, Chuck Berry but also the Paladins, the Reverend Horton Heat and Aussie fellows Pat Capocci and Danny & the Cosmic Tremors.
Pumping piano, strong drum beat, mean electric guitar and jumpin' sax, everything concurs to make a solid Rock'n'Roll album.
Fred "Virgil" Turgis
---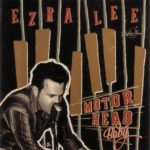 Ezra Lee – Motor Head baby
Rhythm Bomb RBR5809 [2015]
Rock Little Baby – Motor Head Baby – Wow Wow – Volcanic Boogie – Over At Hattie's Barrelhouse – It's You Baby – The Entertainer – Don't Say That You Love Me – Last Date – Pink Champagne – Rocker – A Little Unfair – Skinny Woman – Low Down Piana Blues – Rock & Roll Outlaw
Ezra Lee the piano pounding wizard of Oz returned with a brand new album that confirmed all the good things we thought about him.
Backed by the excellent Firebird Trio (Pete Belair on guitar, Hank Elwood Green on drums and on slap bass Chris Nomad D'Rozario who played with Brian Setzer during one of his recent Rockabilly Riot Tour) Lee covers a wide range of style. Of course there's plenty of Jerry Lee influenced Rock'n'roll (and the production of Paulie Bignell with the drums to the fore strenghten that impression). there's also a good dose of blues (most notably the excellent Low Down Piana Blues), some Boogie Woogie and even of cover of Scott Joplin's ragtime classic The Entertainer. The sole minor flaw would be the cover of AC/DC's Rocker that doesn't really fit him vocally but that shouldn't prevent you to buy that very good album.
Fred "Virgil" Turgis
---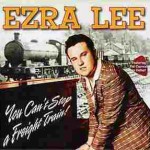 Ezra Lee – You Can't Stop A Freight Train
Press-Tone Music PCD 15.
Just One Of Those Things / Mean What I Say / Creola / Can't Stop A Freight Train / I'll Keep Waiting / Rock'n'Roll Piano Man / Pantin' Panther / Ezzy's Boogie / Look, But Can't Touch / Count On Me (To Shoot You Down) / Firefly / Spread It All Around / The Devil Is A Dame / She Done Gone.
Singer-pianist Ezra Lee is another proof of the good state of health of the Aussie's rockin' scene. Like his first recordings available on "Preston Rockabilly vol. 2" this album has been recorded at Preston Studio by the expert hands of Graeme Thomas (and Cal Robinson too) with long time friend Pat Capocci on guitar (who also wrote or co-wrote half of the songs here), Cal Robinson on bass and Ricky "the Goat" on drums.
It's a pretty good and solid debut album. One could fear that a pianist named "Lee" would merely be a Jerry Lee copycat, but it would be a huge mistake. Sure it contains a healthy dose of piano pounding rockers like Just One of Those Things, Ezzy's Boogie (pretty much like Jerry Lee's Real Wild Child) and of course Rock'n'roll Piano man.
 But there's plenty of other good things too like Sun rockabilly (Spread It Around) and Honky Tonk (I'll Keep Waiting, Count on Me (to shoot you)) which proves that this boy also likes Moon Mullican. One will also find a couple of blues numbers that show his admiration for Otis Spann and Jonnie Johnson like Mean What I Say or Firefly a Muddy Waters inspired number. There's also a beautiful New Orleans blues with a Rumba beat called Creola (a little bit like Earl Hooker's Guitar Rumba), a Texas blues (Pantin' Panther) and a Carl Mann influenced rocker.
No need to say that Pat Capocci's guitar is the perfect complement to Ezra's voice and piano.
Good job folks, I'm really looking forward the next one…
Fred "Virgil" Turgis