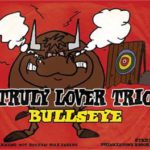 Truly Lover Trio – Bullseye
Twinkletone TR104
Bullseye / Twice Sorry / Pretty Baby / Hora de Llorar / Stranger / The Truth / You're Fine Fine Fine / Blue For You / A Cat Called Domino / Right Or Wrong / You / Love Crazy Baby / Do The Bop / Stranger / Twice Sorry / Blue For You / Do The Bop.
No matter you like Truly Lover Trio or not (personnally I do) you must admit that Marcel Riesco has created a real signature sound and you can recognize one of his song after just a few bars. Not everybody can say that. He's also one of the very few rock'n'roll/rockabilly performer to explore melodic territories with a real will to write songs, not just dancing and bopping ditties, see what I mean? Riesco has the knack to write melodies that hook you (Twice Sorry,Pretty baby, You). And yes Roy Orbison comes to mind, but also Buddy Holly (You're Fine, Fine, Fine) and Marty Robbins (the beautiful "the Truth"). Of course you'll also find straight rockabillies (Kenny Parchman's Love Crazy Baby, Orbison's Domino), rockers like "Do the Bop" (a killer sure to fill the dance floors) or the title track featuring Dawn Shipley on B-vox.
"Bullseye" is surely Truly Lover Trio's best album (so far…) and if you liked "Dance" and "Dig It" you'll have with Bullseye the best of both world: the melodies and the rockin' sides.
As usual with Truly Lover Trio the album is full of demos, outtakes, alternates and even a hidden rockabilly version of "Do The Bop".
---

Truly Lover Trio – Dig It
Twinkletone TR102
Let's Go Out Tonight (Dj Mix) – Dig It – Party Baby – Cuando Vas a Comenzar – Take Me Home – It's Time – Dream Come True – I'll Be Cryin' – Breakin' Up is Breakin' My Heart (Live) – Let's Go Out Tonight (OutTake) – Together – Chains of Love – Don't Sweat It – Dig It (Demo) – Let's Go Out Tonight (Thunderbird Version)
This is the third album from LA's Truly Lover Trio, and the best so far. The first one was a solid debut with lots of rock'n'roll, the second was more "pop" sounding, revealing broader influences. "Dig It" represents the best of this two worlds.
You have Sun influenced rockabilly with tons of echo and a powerful slabasss (that makes a welcome return after the use of an e-bass on the previous album) and melodic rockabilly (Take Me Home, Dream Come True). Of course, Roy Orbison is never far and that's no surprise when you see that Marcel Riesco's label is called Twinkletone, doesn't that sound like a hommage to Roy's Twinkle Toes? The Big O's Breakin' Up is especially well covered, the band getting the true essence of the song, in a similar vein "Party Baby" sounds like a forgotten Orbison tune and is a pleasure from start to end. You'll find some Spanish flavour too, "Cuando Vas A Comenzar" is a solid rocker and "It's Time" a beautiful ballad with Spanish guitar and latin beat. Album after album, Riesco feels more confident with his voice and it shows and slow numbers like "I'll Be Cryin". On a personnal side I enjoy a lot Chains Of Love with its fine doo woop backing vocals. As usual with Truly Lover Trio you have plenty of bonus songs and/or alternate takes including a demo version of Dig It and no less than three versions of "Let's Go Out Tonight" (DJ mix, out-take and Thunderbird version). I warmly encourage you to get this platter because Truly Lover Trio are really a one of kind band that have no other equivalent on the scene today. Dig it ? Sure !
---

Truly Lover Trio – Dance
Twinkletone Records – TR 2006-111
Dance – Spring Fever – Find a Fool – Cool Cutie Cute – Twinkle Toes – Pretending – Secrets in the Wind – Baby Come On – Bullet to my Heart – Un Tonto Mas – She – Dance – Baby Come On
Truly Lover Trio is going further into the style that made songs like "Blueberry Eyes", "King Of Hearts" and "Sleepless Nights" highlights of Hey Little Girl, his previous album. Actually "Secret In The Wind" reminds "Sleepless Night. The band is now playing full-time with an electric bass (John Carlucci : The Hexxers and previously the Fuzztones) and left aside the slap bass and the rockabilly songs you could find in their set previously. The production is really well done with notably a special work on the guitar with various sounds and the use of an acoustic rhythm guitar too. It's a mix between Beatles influenced pop songs ("Dance" and its fine harmonica), 60's rock'n'roll and of course a good dose of Roy Orbison for the inspiration (listen to "Cool Cutie Cute"). The Big "O" is also present here with the sole cover "Twinkle Toes. Marcel Riesco can really craft some killer pop songs like "Spring Fever" or "Pretending" and his voice is really made for that. Every rule has its exception of course and "Bullet To My Heart" is a welcome exception and an excellent wild rocker with mean guitar. It must probably be one of the highlights of his live set. There's some bonus too. Two old songs, one from 1999 in Spanish and one from 2002 from the same session that gives "Sleepless Nights", "Lonely Blue Dreams" and "King Of Hearts". It's a nice ballad and it's justice to find it here. The other two bonus tracks are alternative take of "Dance" and the demo of "Baby Come On" with just the voice and a acoustic guitar. But wait ! You have an hidden track : an alternate take of "Pretending". A good and original second album that benefits of Riesco's maturity, experience and a tight rhythm section.
Fred "Virgil" Turgis