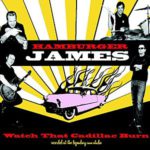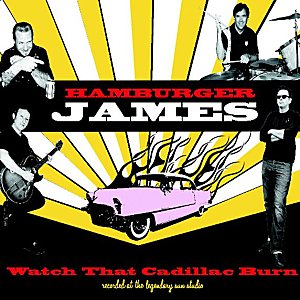 Hamburger James – Watch That Cadillac Burn
 (2011)
Watch That Cadillac Burn – Town I Can't Call Home – Reaching For The Ring – Berryville – best Thing I've Ever Had – Hillbilly Angel – I Don't Need To Have A Reason – Queen Of Broken Hearts – The Devils Bad In Bed – Scar Tissue and Surgical Steel – Cheatin' Side Of Town – Heartache Waiting To Happen – Bad Bad Man – Boom Chicka Boom – Rock And Bowl – Woody On The Beach
Hot! Hot! Hot! I can't believe it. I just received the latest Hamburger James and it's one of the rocking-est piece of shiny silver I've heard in ages. I can't believe these guys dont top the bill of European festivals. Recorded at Sun studios (where else?) it contains 16 originals tracks written by the different members of the band.
It opens with the title track, inspired by Elvis'Cadillac. And right from the start they grab you. It starts with a doo-wop arrangement then explodes into a hot rocker that would make Brian Setzer red with envy before returning to a more melodic/doo-wop style on the bridge. Superb arrangement and even better guitar solo. "Town I Can't Call Home" is a solid country rock with steel guitar and harmony vocals, sounding as if "Six Days On the Road" had merged with Brian Setzer's (again!) "Drive Like Lightnin',Crash Like Thunder". The tradition of talkin' blues is now rich and it seems difficult to bring something new after songs like Smoke, Smoke, Smoke, A Boy Named Sue and Hot Rod Lincoln, but with "Reaching For the Ring" and its Jordanaires-like backing vocals, Hamburger Jame can add its name to the list. Next is "Berryville". Need I say more? Well imagine Chuck Berry meets the Fabulous Thunderbirds. "Best Thing I Ever Had" is a stripped down rockabilly, mostly acoustic with just a light electric guitar. "Hillbilly Angel" shows influences of the Bakersfield sound with a bit of rock'n'roll and a superb solo that sounds like a mix between Dave Edmunds and Pete Anderson. The ballad "I Don't Need To Have A Reason" also shows some Bakersfield/Yoakam influence. Still on the slow pace, the instrumental "Queen Of the Broken Heart" develops a melancholic mood with a slight Santo and Johnny feel in the sound. Threatening i the word that comes to mind for "The Devil's bad in Bed", a superb medium rockabilly number. The following number, "Scar Tissue & Surgical Steel", is a hot rockin' number played at a demonic pace, quite similar is "Heartache Waiting To Happen". "Cheatin' Side Of Town" is a pure Honky Tonk while "Bad Bad Man" is a Soul number featuring a complete horn section and sounds more like Stax than Sun. "Boom Chicka Boom" is not a tribute to the Man in Black as the title could indicate, but a mean number halway between rockabilly and Howlin' Wolf (and a bit of Dale Hawkins too). "Rock And Bowl" is a classic Rock'n'roll with a tip of the hat to Danny Cedrone on the solo and the surf instrumental "Woody On The Beach" full of twangy guitar closes the set with class. An album that is brilliant from start to finish on which it's almost impossible to find a weak track.
Fred "Virgil" Turgis
---

Hamburger James – Last Plane To Memphis
This quator from Richmond, Virginia takes his name from one member of the Memphis Mafia, whose job was to bring burgers to Elvis whenever he needed it. With such a name it's no surprise to hear the influence of the King all along this album (that comes in a well designed digipack by the way). But influence doesn't mean copy. They just take some elements, from the Sun days (That's Allright) to the 60's (Little Sister) via the classic RCA 50's sound (Red Dress features some fine Scotty Moore licks), assimilate them and turn them their own to give their brand of rockabilly/rock'n'roll, a music with roots but not dated, with a majority of self penned songs.
Andy Vaughan, the lead singer, has a great voice that finds him equally at ease with straight rockabilly, wild rock àla Little Richard ("Rumble Tonight") or the soulfull "Are You One?" that features an Hammond B3, I bet those who like The Paladins' "You & I" will love this one too.
Country music is well represented too with notably "Ounces At A Time", a solid honky tonk with piano and the Cash-esque "The Story Of Hamburger James". "Wait For The Morning" is one of my very fave, a beautiful ballad with Roy Orbison's accents that wouldn't be out of plave in Chris Isaak's set. A female guest singer, Jennifer Vaughan, is present on Janis Martin's Bang Bang, a way to pay hommage to the rockabilly queen the band backed as one of their first gig.
Plenty of styles for a solid and original debut album.
Available at cdbaby.
Fred "Virgil" Turgis
Share the post "Hamburger James"