According to the legend, the band formed in June 1985 after a Jack Scott show. Initially a quartet, with Arnold Baker on lead vocals, Jean Christophe Jehanne on guitar and lead vocals, Thierry Petel on drums, and Franck Marivain on double-bass. The quartet became a trio when Baker left. Then Christian Pujol (aka Mickey Black Fingers) joined the band. When he quit at the end of 1988, the remaining two members contacted the Crabs' double bassist, but it didn't work. Following the advice of Alain of Les Vierges, they got in touch with Alain Marietti, who played with Los Carayos and Les Wampas.
This article focuses on the band's early releases before they moved away from Rockabilly and Psychobilly.
Happy Drivers – Demo
Right String, Wrong Yo-yo / Jump Baby Jump / Tear It Up / London Rock
On these recordings, Arnold Baker sings the two jive/rock'n'roll tunes (Jump Baby Jump and Tony Crombie's London Rock). Both feature a saxophone, and Jump Baby Jump, though not very original benefits from an excellent guitar part. Jean-Christophe Jehanne takes lead vocals on the Rockabilly stuff, Carl Perkins' Right String, Wrong Yo-yo and Johnny Burnette's Tear It Up, the former having a powerful slap-bass part.
---
Happy Drivers – Jump Baby Jump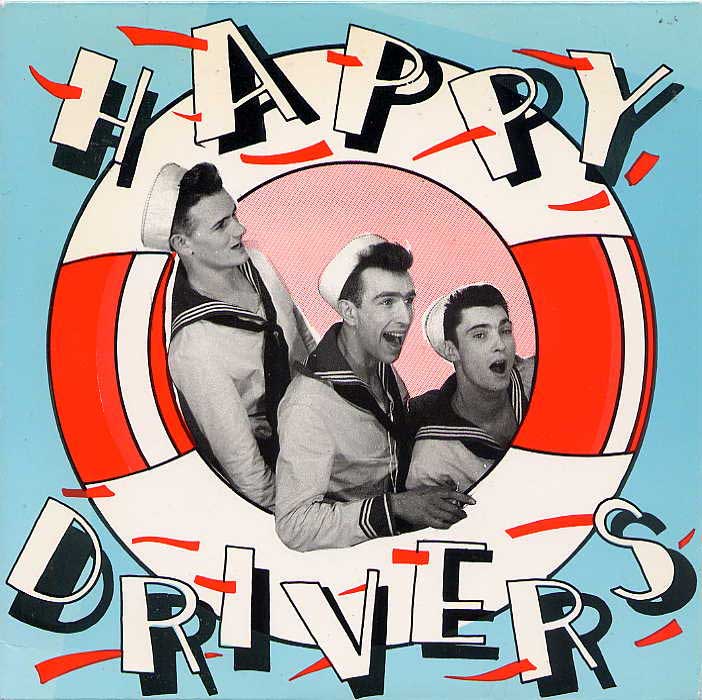 Scalen – SC513 [1987]
Jump Baby Jump / My Boppin' Rockin' Babe
On this single, the band now evolves in trio format. Jump Baby Jump is a new version recorded for this single with Jehanne on lead vocals. It suffers from Jehanne's accent, a recurrent problem on many of his recordings, and it's a bit young and thin in terms of sound.The b-side is far better and more original with a stop-start composition and an interesting guitar solo. A new recording of this song was made for their debut album.
---
Happy Drivers – We Shall Be Going On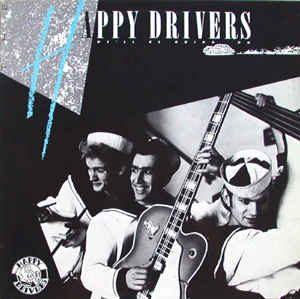 Iguane Production – Iguane 001 [1987]
Babe Please Don't Go – We Shall Be Going On – My Bopping Rocking Babe – The Fun Of It – Midnight Train – Popeye – Low Rider – Old Black Jack – Long Blond Hair – You Will Never Come Back Again – Oh Babe – My Daddy's Banjo
Shortly after their single, the trio recorded We Shall Be Going On, in their rehearsal room in December 1987.
When you listen thirty years later to an album you liked a lot as a teenager, it's not easy to know if you like it for good reasons. Does this album really have qualities, or is this just pure nostalgia? For "We Shall Be Going On," the answer is both.
On the one hand, if you want to be objective, one can say that the sound and the production (or the lack of) are a bit thin, Jean Christophe's voice is from time to time totally out of tune, and his pronounced French accent a bit too present.
But this album also has some qualities. The boys wrote their own songs (even if Low Rider sounds very close to Stray Cats' Built For Speed) with varied influences from straight rockabilly to blues, with a dash of neo-rockabilly and a bit of country too (you can find a banjo on a couple of songs). The covers, including Dave Phillips The Fun Of It, are very well chosen. All these elements – and I can't deny a bit of nostalgia – make this debut album an enjoyable listening experience, even three decades later.
---
Happy Drivers – Indians on the Road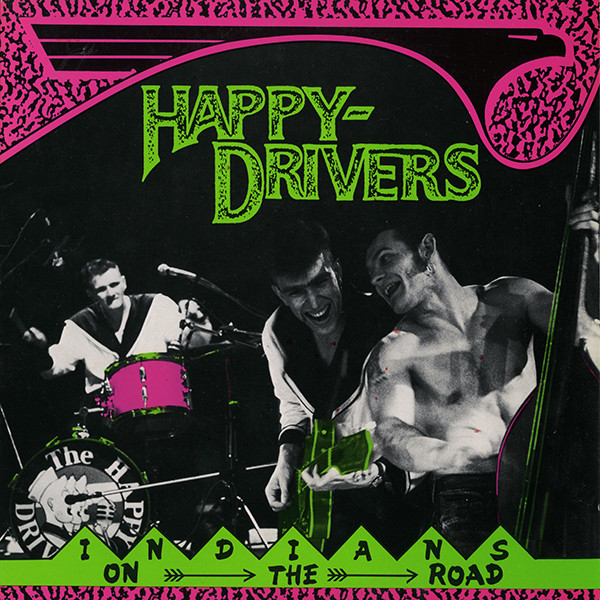 Gougnaf Mouvement – GM 038 [1988]
Indians – I'm Not A Hero – Tear It Up – Nervous Man – Babe, I'm Gonna Leave You – Crawdad Hole
Recorded in April 1988, less than six months after their debut album, Indians show the band's rapid evolution. Compared to their debut album, this mini 10" album is plain excellent. It also shows that the short distance advantages the trio. Since their previous release, the Happy Drivers have hardened their sound. Not exactly psychobilly, but no longer 50's rockabilly, they created their brand of modern rockabilly. "Indians" features the appropriate drum beat, as you can imagine, and a citation of The Shadows' Apache (of course). Next, you have "I'm Not A Hero" a wild modern rockabilly that shows how tight the band was. The third original, "Nervous Man," is nervous for sure with loud guitar and raspy voice. It prefigures what will follow with "War" their third album. JC has worked on his voice, and you also hear that the band benefited from a real studio and enough time to refine their sound. Regarding the covers, "Tear It Up" and "Crawdad Hole" are good, but the one that steals the show is "Babe I'm Gonna Leave You." Initially penned by Anne Bredon in the late fifties as a Folk song, Joan Baez later popularized it, then Led Zeppelin covered it on their debut album. The Happy Drivers turn that song into a frantic rockabilly number. Simply perfect.
---
Happy Drivers – War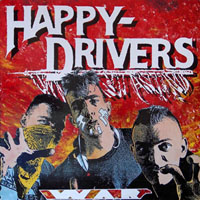 Boucherie
La Isla Bonita – I cry Jerry Lee – I shoot da Sherif – Lame de fond – Arena – Indians War – Crazy life – Rock on – Fire down below – I cry freedom – Blood & War
Recorded in January 1990 and released in March of the same year, the third album by the French trio marks a new step for the band. Alain (ex Wampas and Los Carayos) replaced Mickey Black Finger on bass (who later went to play with The Grizzly Family). Not only Alain brought his bass but also many influences that one didn't find in the band's sound like hardcore and heavy metal (Cro-Mags, Black Flag, Bad Brains, and so on). He also sang two songs, including one in French.
Contrary to their first releases, they worked with a "real" producer, namely Roger Tebbutt, who worked with The Long Tall Texans. The result is a harder sound, and the album sees the trio exploring new territories. They cover the likes of Madonna (an explosive version of La Isla Bonita), Bob Marley (imagine I Shot Da Sheriff if Marley was on speed instead of weed), and Gary Glitter (Rock On). Some songs stay closer to the rockabilly idiom (I Cry Jerry Lee), while others are strictly hardcore/punk rock like Arena. Another tune (Lame de Fond) sounds like a French folk song, a path some members of the band will follow after the group splits.
Despite some good songs here and there, The Happy Drivers' following albums (Toowomba and Epica Carmina) were disappointing compared to War, which was the perfect combination of Rockabilly, Psychobilly, Hardcore, and alternative rock.
In 2017, Jean-Christophe appeared in Spain at the 25th Psychobilly Meeting. Too bad he didn't choose to reform the band with its original line-up for the occasion. He then formed a new incarnation of the band called Happy On The Road with Gaybeul (Demented Are Go, Surf Rats and a electric-bass player. The trio recorded and released an album in Fall 2020.