James Intveld & The Honky Tonk Palomino's – Never Gonna Let You Go
Sleazy Records – SR208 [2020]
Never Gonna Let You Go – To Be As One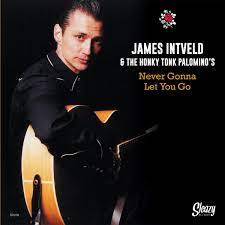 James Intveld recorded this excellent single in Spain in 2020 with Evil Bob Gothar on guitar, Lorne Rall on double bass, and Kip Dabbs on drums. Both songs are from the pen of Intveld.
Never Let Me Go is a smooth Rockabilly along the lines of Ricky Nelson. The B-side, To Be As One, marks the return of a lost art: the ballad. And this song, a superb and tender piece of music, is among the very best. Intveld really can handle the vocal for such a thing, and the band is perfect.
---
James Intveld – s/t
Bear Family Records – BCD 15 900 AH [1995]
Perfect World – Blue Blue Day – Cryin' Over You – I'm To Blame – Barely Hangin' On -Samantha – Your Lovin' – You Say Goodnight, I'll Say Goodbye – Kermit Vale – Wild Places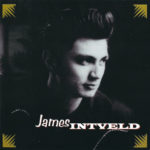 James Intveld grew up in California and, from a very young age, developed an interest in Rock'n'Roll. He soon started to sing and play the guitar and enlisted his young brother Rick to play drums and Pat Woodward on upright bass to form the Rockin' Shadows. They recorded one single with Steve Grindle (Ravenna and the Magnetics) on bass. But soon Pat then Rick left to join Rick Nelson and sadly perished in the plane crash that also killed Nelson.
After a break from music, Intveld eventually sent a demo of Cryin' Over You to Rosie Flores, who recorded the song for her debut album. Then Intveld recorded the vocals for John Waters' movie Cry Baby (in place of Johnny Depp) and played guitar with the Blasters between 1993 and 1995. That's when Bear Family asked him to record one song for a compilation album. The song was so good that the label eventually asked him to record an entire album.
It is one of those rare records with no bad or even weak songs. Think about it and try to name just five; you'll see it's not that easy.
Perfect World lives up to its name. It's the kind of tune that moves slowly but surely, almost inexorably, with a Presley-like drive and a solo reminiscent of Heartbreak Hotel.
Don Gibson's Blue Blue Day suits him to a t and shows he can play steel guitar too. Cryin' Over You sounds like an old classic. And it's fine to hear Intveld's version of his own song (not that Rosie Flores's version was bad, far from that.) Mickey Gilley's I'm To Blame is the second cover. While the original had a Jerry Lee Lewis/swamp pop flair, the Intveld version seems darker and more resigned.
Barely Hangin' On is a superb country shuffle, whereas Samantha is more emphatic and closer to the great Roy Orbison. Your Lovin' is a classic Country-rock tune with a slight 60's feel. Next is You Say Goodnight, I'll Say Goodbye. Listening to this song, I wondered why more artists weren't singing such pretty and poignant ballads. And the answer struck me in all its obviousness: you must be a good singer. It doesn't just mean singing in tune and having a good voice, but it includes the emotion, the dosage of effects and all those little things that make subtle differences. Almost anyone can make edgy Rockabilly songs, but a song like this is unforgiving and allows no mistakes.
Kermit Vales sounds a bit like Solitary Man, only darker. This stripped-down track, featuring just acoustic guitar, once again showcases Intveld's vocals.There is a purity and an evidence in each of these ten songs, an intelligence in the simplicity of the lyrics, highlighted by the subtlety of the arrangements. All these qualities are confirmed by Wild Places, which closes the album in style.
---
James Intveld – Introducing
Bear Family Records – B10 10001 [1995]
Perfect World – Blue Blue Day – Cryin' Over You – I'm To Blame – Barely Hangin' On -Samantha / Standing In A Rock – My Heart Is Aching For You – Important Words – Your Lovin' – I Love You – You Say Goodnight, I'll Say Goodbye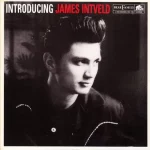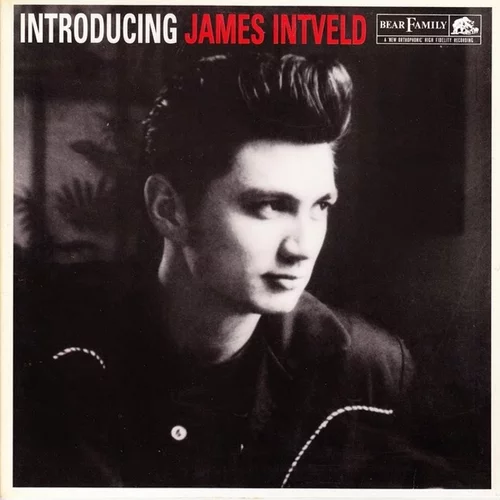 This is the ten-inch vinyl version of the above CD with a slightly different tracklisting. Kermit Vales and Wild Places are not included, but instead you have four additional tracks. Standing On A Rock is a pure bouncy Rockabilly gem. I Love You is a Presleyan ballad whose recipe we thought had been lost. You will find two rereadings: a very fine one of Important Words and a new version of the muscled country shuffle My Heart Is Aching For You previously recorded with the Rockin' Shadows.
Fred "Virgil" Turgis