Marcel Riesco – All Shades of Blue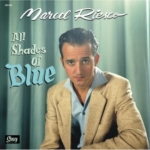 Sleazy Records – SRLP30 – [2018]
All Shades Of Blue – The Actress – Kiss From You – Paper Heart – So Lonely Without You – Fade Away – Borne On The Wind – Let's Get Goin' – Yes, I've Come Back – Lonely Blue Dreams – Runnin' Fool – Indian Love
If you have no time to waste reading reviews, here's what you need to know : GO BUY THIS ALBUM, NOW!
Now if you want to read more…
When Marcel Riesco (of the Truly Lover Trio) announced the immediate release of this album on his Facebook page, I asked him if it would be as good as "A record date" his previous album that blew me away. His too words answer was "Way better". That was quite a promise but a couple of weeks later I held a physical copy of the lp (with a signed card) and I had to admit that he didn't lie. Far from that.
This record is a collection of twelve songs including eight originals from Riesco's pen. The remaining four songs are two Orbison tracks (the Actress and Borne on the wind), a cover of the Morgan Twins (Let's Get Goin') and Redd Stewart's Yes I've come back.
As you can guess the set shows a strong Orbisonian influence with ballad for the broken hearted but there's also more rockin' stuff with an early 60's flair as well as some country and western hints here and there.
As usual with the Lightnin recorders stuff, it's very well recorded with a strong Nashvill Tennessee studio B feel, with a wide range of percussions, piano, vibraphone and pedal steel in addition to the guitar-bass-drums set-up. The real plus being the female voice that blends perfectly with Riesco's one.
This is an essential album that I couldn't recommend enough. In a period when everyone on the rockin' scene tries to sound harder and wilder than his neighbour, it's refreshing and more than pleasant to find guys like Marcel Riesco or Colton Turner who concentrate on the melodies, the song, the arrangements and the production.
Fred « Virgil » Turgis