The Jive Bombers – Hit the Deck! It's… the Jive Bombers
Texas Jamboree TexJam0068  [1999]
Whirlin' – Walk the Chalk Line – Home Cooking – Daddy Likes to Mambo – Misunderstood – I Don't Believe – Each Day – The Wine Goes in (And the Truth Comes Out) – Gotta Gimme What'cha Got – Oh, What a Dream – Walkin' Slippin' and Slidin' – The Hucklebuck – Travelin' Baby – Missouri Pacific on Santa Fe – Beat on the Boogie
The Austin based Jive Bombers formed in Fall 1997 on the ashes of the Big Town Swingtet. They consisted of Dana Dattalo (Jubilettes) on vocals, Vance Hazen on bass, Bobby Horton (Horton Brothers, Deke Dickerson…) on guitar, T.D. Motycka (Nick Curran) on saxes, Derek Peterson (Kidd Pharaoh) on piano, and Shaun Young (High Noon) on drums and vocals and they played post-world war II jump and jive and hot rockin' rhythm'n'blues. Dattalo has a superb and powerful voice that suits that genre perfectly and Shaun Young sings a couple too, including some duets with her. Billy Horton produced it at Fort Horton, so you can expect warm and vintage sound.
They covered songs from Julia Lee, Ruth Brown, Buddy Johnson, Ann Cole but have solid originals mostly written by Young. Most of this songs has a strong dancefloor appeal and are sure to make you move your feet.
Fred "Virgil" Turgis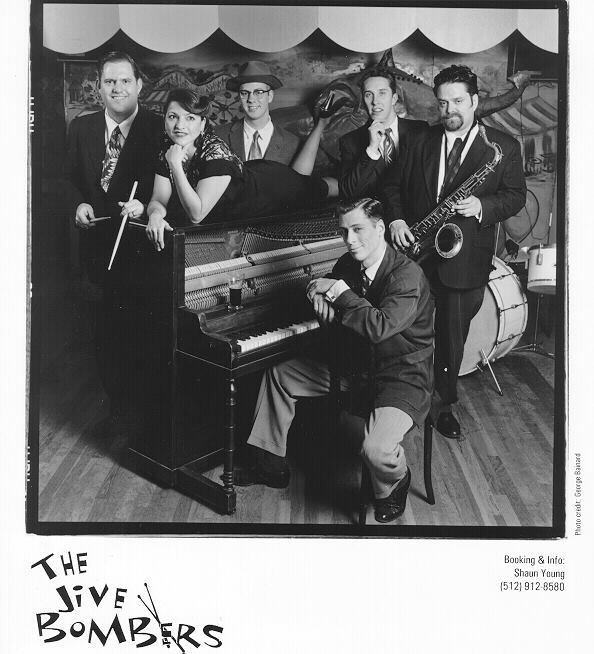 Share the post "Jive Bombers (the)"