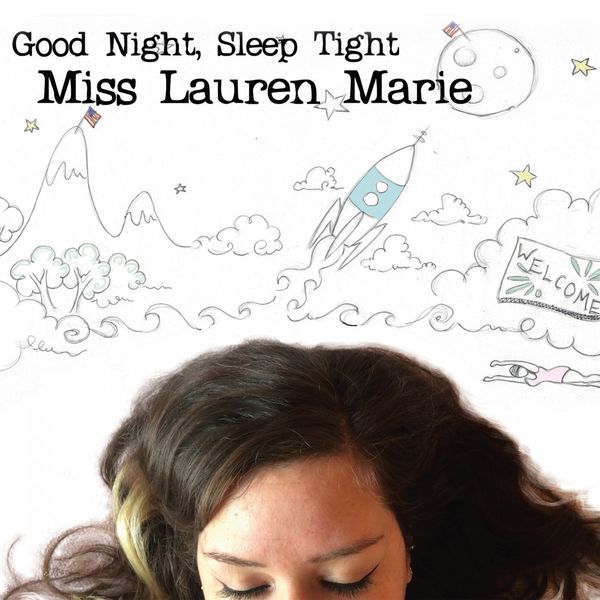 Miss Lauren Marie – Good Night, Sleep Tight
Horsdorf Records HR002 [2019]
Am I Blue – If I Know'd Youse A Comin – Whoa Babe – It's A Sin – First Train Heading South – You Belong To Me – Your Love – I'd Do It For You – You Got A Heart Like A Rock – Leave Me Alone – Cry, Cry, Cry – Good Night, Sleep Tight – I'll Be Back
The ever-charming Miss Lauren Marie returns with her fourth album, the second one with the Halebops (Mace Sharp on piano and organ; Chris Hoffmann on lead guitar, Matti Andersson on basses; Marco Breede on drums and Lena Holldorf on backing vocals.)
This new album kicks off with an excellent rendition of Am I Blue that, contrary to many, is not a carbon copy of Eddie Cochran's version. Less Rockabilly and more slightly more Rock'n'roll, I'd say.
Next is a cover of the hillbilly parody of If I Know You Were Comin, titled If I Know'd Youse A Comin' I'd Cut My Throat featuring a very appropriate barrelhouse piano.
Bob Wills' Woah Babe is the perfect vehicle for the singer and the band. Lauren Marie sings it in an effortless manner while the musicians are on fire, trading guitar, and piano solos, with drums and double bass breaks in between. Nice! The following song, It's A Sin, is an original penned by Lauren Marie with echoes of Johnny Cash in it. She really has the voice tailor-made for this kind of stuff.
After a solid Johnny Horton cover, she delivers a superb soulful ballad (originally by Sam Cooke) with organ and brushed snare. If you remember How Can I Help But Love You on her second album, this song plays in the same category. She knocks me out every time she goes into that territory.
Back to plain old Rock'n'roll with Bob Luman's Your Love, that features a sharp guitar solo. Then she takes Curtis Gordon's I'd Do It for You, which is a classic hillbilly song and transforms it into a superb boppin' hillbilly / early rockabilly, a genre at which she excels.
Charlie Gracie's You Got A Heart Like A Rock is a classic rocker enlighten by Lena Holldorf on doo-wop backing vocals. Next is Leave Me Alone, another original that features a superb guitar pickin' introduction. After Ritchie Valens' Cry Cry Cry (not to be confused with Johnny Cash song of the same name) you'll find Lauren Marie's third original. Despite its title (Good Night, Sleep Tight), it's not exactly what you could call a lullaby but a solid Rockabilly tune.
The record ends up with I'll Be Back. It's a good idea to resurrect this lesser-known Elvis song from 1966, and we take this as a promise. We hope that you'll keep your word, and we won't have to wait seven years for the next album.
---

Miss Lauren Marie – Under the Stars, Over the Blues
Rebel records – [2012]
Kiss Me Baby – My One Desire – Dream – An Honest Woman – So Cruel, So Cold, So Blind – You Must Be A Loser – For Rent – Forever's Much Too Long – Think What You Want – Ain't Misbehavin' – I'm Comin' Home – Under The Stars, Over The Blues – Outro
A lot of things happend to Miss lauren Marie since 2008 and the release of her latest album "Im' No Good Without You" on Texas Jamboree. She moved to Germany, got married and found a new band, the Halebops. They brought a slight change in her style, sounding more Rock'n'roll than Rockabilly or Hillbilly bop. The best examples of these new direction are the opener, a cover of Al ferrier's Kiss Me Baby featuring a strong pumping piano and Ricky Nelson's My one Desire.
"Under the Stars, Over the Blues" also marks a new step for the singer who wrote or co-wrote four songs. I particularly enjoyed "An Honest Woman" that made me think of Big Sandy's I hate Loing You and the title track on which she accompanies herself on ukulele.
She also co-produced the album and without comparing to Billy Horton who produced her previous efforts and is one of today's best producer, one can say that she did a fairly well job, especially on the voice. Hey! There's even an accordion on one track!
Check her website
---

Miss Lauren Marie – I'm No Good Without You
Texas Jamboree TexJam 0060
I'm No Good Without You – Careless Love – You're Only Cheatin' Yourself – Nobody Buys Your Alibis – Cheaters Cheat – Cracker Jack – One Broken Heart – What Have I Done That Made You Go Away – Midnight – How Do You Feel About Me – All the World Is Lonely Now – How Could I Help But Love You – So Long
For her second album, still on Texas Jamboree, Miss Lauren Marie played with the same winning team that made of her previous album the great thing we all know and love.If it isn't broken, don't fix it as they say. It's always a pleasure to hear the fine drumming of Buck Johnson, with Dave Biller's tasty licks as well as T Bonta's honky tonkin' piano, Bobby Horton's guitar (and steel) and of course brother Billy playing bass and producing the whole thing. Together they sound like a today's equivalent to the Nashville's A-team. They deliver a fine set of smooth rockabilly (Cheaters Cheat), Ricky Nelson's type of rock'n'roll (So Long), Honky Tonk (One Broken Heart, All The World Is Lonely Now), swingin' Hillbilly (What Have I Done That Made You Go Away) and a soulful – Charlie Rich inspired cover of Aaron Neville's "How Could I Help But Love You". The other covers range from Wayne Newton's I'm No Good Without You to "Careless Love" (close to Wayne Newton's version too) via a tribute to the late Janis Martin (Crackerjack).Six songs are originals, Bobby and Billy Horton (together or individually) providing four tunes in their very own style and icing on the cake, the king of songwriters, Sage Guyton of The Lucky Stars fame, has written two instant Honky Tonk classics ("You're Only Cheatin' Yourself" and "Nobody Buys Your Alibis") for the young lady.
The voice, the band, the songs, the style(s) and the production, it is flawless and I can't see a single thing that could prevent you to rush to your local dealer to ask it.
---

Miss Lauren Marie – Introducing…
Texas Jamboree TexJam 0061
Just Like Two Drops of Water – Sweet and Easy to Love – A Heart That Isn't True – As My Heart Breaks – Who Cares – Moody River – One Sided Heart – How Long is Forever – Everytime – Three Little Words – Please Take a Picture – The Last Kiss is the Sweetest – Believe What You Say
Short version : Perfect & essential !
Extended version : Not only Billy Horton is a great producer and knows how to record music, but he and his brother Bobby have gathered some of the finest musicians around to build what could be called the "Fort Horton team". With Billy on bass, Bobby on guitar and lap steel, you find Dave Biller, probably one of the most inventive guitar player in town, Buck Johnson on drums and T Bonta on piano. Together they made some masterpieces like The Horton Brothers albums and Shaun Young's "Wiggle Walk". That's the same band that plays on this great platter, Miss Lauren Marie's debut album. Imagine something like a cross between Kay Starr and Patsy Cline recording at Owen Bradley's studio in the early 60's. The album opens on a great version of Wynonie Harris' "Just Like Two Drops Of Water" which is followed by Roy Orbison's Sun period song : Sweet And Easy To Love. The arrangement is not that far from the original except for the backing vocals arrangement, a good idea in my opinion as I think it's a low point on the original. Next comes "A Heart That Isn't True" one of the three Bobby Horton's own, first heard on "Bobby Horton vs Derek Peterson". "As My Heart Breaks" is another nice tune written by Horton and shows some reminiscences of the Biller & Horton album with vibes and an exotic beat. His third effort, "Everytime" is a pure Horton song and is my new "I-feel-blue-what-song-could-I-play-to-feel-better" tune. An old theme given a fresh treatment.
The Two Timin' Three appear on two songs : the jazzy "Three Little Words" with a nice guitar in a Chet Atkins vein and the Ricky Nelson / Burnette smooth rockabilly "Believe What You Say", the perfect song to end this album which shows her ability to rock. Before that you'll find some honky tonk with Don Gibson's "Who Cares" and Willie Nelson's "How Long Is Forever", and a beautiful waltz written by Eric Laufer. Don't forget her version of "Moody River" where Miss Lauren Marie is perfectly supplied by Buck Johnson' drums rolls. I could go on with the musicians skill or try to describe her voice both subtle or warm but I'm afraid that short or extended, you'll always come to the same conclusion : a perfect album with no filler.
© Fred "Virgil" Turgis