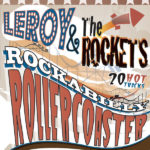 Leroy and the Rockets
Rockabilly Rollercoaster
Prestige Elite Records CDSGP 1313 [2012]
Challenge – Dianne And The Gypsy Queen – The Old Man Is Down The Road – Swordfish – Memphis, Tennessee – Goin' To Chicago – Remember Me – Summertime Blues – It's All About Me – That's Life – Livin' This Way – Dangerous Man – Shaking All Over – Witchcraft – Love Roulette – Strange Business – When You Were Mine – Zippin' Pippin – Bad Moon Rising – Mars Attacks (Venus)
Rockin' Rocket 88 has lived, here comes Leroy & the Rockets. But if the name changed, the line-up and the quality remain the same. There's just a slight evolution in the sound, something like a more modern approach. Of course this is still roots oriented music, mostly rockabilly but with elements of blues (Goin' To Chicago), hillbilly (Memphis Tennessee and Summertime Blues with a fiddle) and obvious references to the pioneers like Elvis (Dianne and the Gypsy Queen) or Johnny Cash (Remember Me). But they really aim to create a brand of music for the 21st century. To achieve their vision they asked Stevie Paul to produce the album. Paul is as far as you can imagine from the Rockabilly world having worked with Rod Stewart, Mary J Blige, Toni Braxton, Edwin Starr, Mike & the Mechanics to name but a few. His fresh approach mixed with the band's background results in a brand new sound: something like a mix between the Blue Cats from the Tunnel era and Chris Isaak's rockingest material.
With artists as Kitty Daisy and Lewis or Imelda May touching a large audience, it would be justice that a band which plays this music for more than 25 years, even if it was under another name, obtains a little recognition.
Fred "Virgil" Turgis
Enregistrer
Share the post "Leroy and the Rockets"