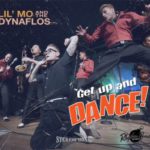 Lil Mo and the Dynaflos – Get Up and Dance
Rhythm Bomb RBR 5829 {2016}
Get Up And Dance – Hands Off  – Spellbound – At My Front Door – You Belong To Me – She's The Most – Miss Magician – Zoop – Shut That Door – Why Don't You Answer – Closer To The Aisle – Bop, Shake, Boogie – Have Love Will Travel – All Night Long
I won't try to fool you: though I enjoy listenin' to some doo-wop from time to time, this is not my main thing and I'm far from being a specialist of the genre. But specialist or not, I know when good music come right across my ears to go straight to my feet. Lil' Mo and the Dynaflos are a 8-piece little combo with four singers led by Lil' Mo and his very peculiar and original voice and the usual drums-bass-guitar plus a sax. What you have is basically Italo doo-wop mixed with some early vocal Rhythm'n' blues (and a bit of rockin' too). As I said the vocals is amazing with very tight arrangement and the backing band does more than just backing if you see what I mean, working closely with the singers.
Half of the songs are covers (The El Dorados' At My Front Door, You Belong To Me – that I knew first by Gene Vincent, the Five Keys's She's the Most, the Charts' Zoop, The Maharajahs's Why Dont You Answer and Richard Berry's Have Love Will Travel and Joe Houston's instrumental All Night Long) and the remaining titles are written or co written by Lil Mo (Morris Everett) and Cliff Quan, one of the other vocalist.
It's been recorded at Wallyphonic Studio by Wally Hersom of Big Sandy fame and the sound is as warm and authentic as one can expect.
All those elements contribute to make of this album one rockin' little gem, that'll make you jive in your living room, put a smile on your face and simply fill you appetite for good music. What can I say? Buy it!