Mad Men (the) – Rhythm And Sin
RBR 5647 Rhythm Bomb Records RBR 5647 Rhythm and Bomb Records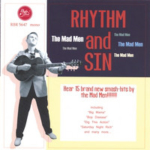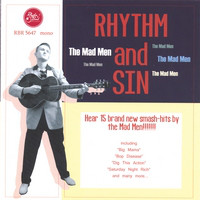 Dig This Action – Early Next Morning – Bop Disease – Breaking Hearts And Promises – Little Franny – 'long About Midnight – Mary – Rhythm And Sin – Only You – Saturday Night Rich – Snap Your Little Finger – Baby Baby – Big Mama – Intoxicated – It's Time To Howl
Holy mackerel! What a blast! I thought my CD player was goin' to melt while listening to this second album of the Croatian Mad Men! Never a band better deserves his name. These 15 tracks are hotter than hell. From the first track "Dig This Action" to the last one which is not listed, a raw cover of the Italian rocker Adriano Celentano's "24 mila baci" from 1961 sung in Croatian by Altic Emir and done today by Branko Radovancevic. This crazy dynamite album was recorded, produced and mastered for Rhythm Bomb Records by the german wizard Axel Praefcke. And it sounds just like comin' from an obscure 50's wild rockin' combo. Listening to these guys, I caught a "Bop Disease" that you'll probably catch you too; I'm quite sure. Would you resist to the catchy drive of "Little Franny", the powerful "long about midnight" (what a perfect one to listen to while cruisin' with your hot rod!), the strollin' "Mary", the frantic "Rhythm and Sin" (my idea of a perfect live!), the boppin' "Saturday Night Rich", a Presley influenced "Snap Your little finger" (that will remind you "Baby I don't Care"), the cover of Mike Waggoner & Bops' "Baby Baby", the jivin' "Big Mama". Okay, now you're "Intoxicated." And 'It's Time To Howl" cause you're having such a ball that you cannot help from screamin', yellin' and barkin' like a rabid wolf. I easily can understand you for my neighbors called the police, and they're now taking me away in a camisole… So long, fellows… Wooooooooooooooooooooooooo.
David "Long Tall" Phisel
Share the post "Mad Men (the)"