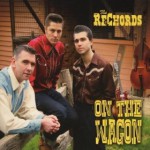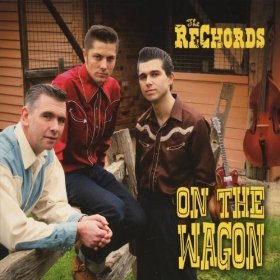 The Rechords – On The Wagon
Bundoora – BRA001
Easily Loved – Save It – Don't Be Mad – Think It Over Baby – It's Been Awhile – Saddle Up – It Won't Be Long – Boogie Blues – Hocus Pocus – Fireball Mail – Bordertown – Take the Line – Could've Been Worse – No Help Wanted – Long As I Am Around
The Rechords are Tyron Shaw on upright bass and vocals, Leo Francis on acoustic guitar and vocals and Felix Potier on lead guitar and vocals. This excellent drummer less trio comes straight from the land down under, Melbourne to be precise. They play a brand of fresh and exciting music that borders on Rockabilly but would better be described as hillbilly bop, you know the last limit before the bands went full time rockabilly in the early 50's. They particularly work hard on the melodic sides of things and have great harmonies inspired from the great "brothers" combo of the past (Louvin, Stanley, Delmore, Everly…).
The seven songs they had on the Press Tone Rockabilly #3 compilation album impressed me a lot, but they totally blew me away with their long player. It's been a while since I've been that impressed by a trio like that (who said Roy Kay?). Each member can sing lead and double on harmonies and the three of them penned solid originals that stand proudly next to carefully chosen covers. What distinguishes them from the vast majority of other combos that play (or try to play) this music lays in the fact that they have assimilated their influences (bluegrass, honky tonk, western swing, blues, rhythm'n'blues, rockabilly) and created their own style rather than slavishly copying anybody (no "oh this riff sounds like Johnny Burnette" or "hey they borrowed this one to Gene Vincent" here). Most of all, they have listened to what have influenced the artist they like, that's why they came naturally to an authentic and natural sound.
The set is varied mixing ballads, country weepers to more uptempo tune and they have invited a piano and a fiddle player to play on some tunes to add even more diversity. I won't go too much into details, but give them a chance and you won't be disappointed.
The whole thing comes in a nicely designed digipack, so what are you waiting for cuzzin?
Fred "Virgil" Turgis