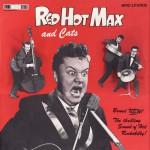 Red Hot Max and Cats ‎– The Thrilling Sound Of Hot Rockabilly
Wildcat Record Company ‎– WRC-LP-5002 [1981]
Have You Heard-Rockin' And Rollin' With Granmaw – Rock'N Roll Ruby – Hot Shot – Been In Memphis – Stomp Rock – Baby Let's Play House – I Have Thought – Max Rockin Boogie – Flip, Flop Mama – Red Hot Stomp – Wanne You – Rockin With Me – Dig That Boogie – Done Gone – Jitterbuggin Baby
With "the Thrilling…", Red Hot Max and Cats made it on long distance (and what distance no less than 16 songs) for the first time after an ep that sold out in weeks.
Red Hot Max and Cats were one, if not the first, band in Sweden to use a double bass. Their brand of Rockabilly is wild and frantic as demonstrated by their Burnette influenced "Have You Heard" or their cover of "Rock'n'Roll Ruby". Some songs feature a piano which is always a plus and they bring variety to the set with songs like "Rockin' and Rollin' with Granmaw" that shows some influence from Bill Haley's Saddlemen (with steel and piano). Talking about Bill Haley there's a couple of songs with sax that leans more on the Comets sounds while I Have Thought features an harmonica and reminds of Howlin' Wolf's Smokestack Lightnin'.
Too bad some songs are a bit wasted by their drummer who is not always in place and misses some break. Anyway it remains a good album.
---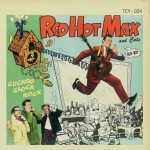 Red Hot Max and Cats – Cuckoo Clock Rock
TCY Records – 024 – 2013
Bring my Cadillac back – Well, now dig this – Equator-Mama's little Baby-Bim bam –  Cast iron arm –  You gotta be loose –  Cuckoo clock rock – Stop –  Birht of the Boogie –  School of Rock & Roll –  Jitterbop Baby – Spirit of Woodstock –  The Saints Rock & Roll –  Svartbäckens Ros – Digga Rock & Roll
Formed in the late 70's, Red Hot Max & Cats are some sort of an institution on the Swedish rockin' scene.This cd is th ereissue of an album originally released in 1989. With Cuckoo Clock Rock, Red Hot Max took a slight departure from thier usual rockabilly sound. The addition of a permanent sax players as well as guests on second sax, piano and even trombon saw them morphed into a tight rock'n'roll unitin the style of Bill Haley, the Jodimars and the Stargazers.
It's very well recorded and the result is pretty good and highly danceable but lacks of originality, partly due to the fact that all songs but one are covers, and furthermore some well known ones.
The reissue includes two extra tracks not on the original release – one being a Swedish version of the Jodimars' Now Dig This – and a nice booklet with pictures and a band history.
Fred "Virgil" Turgis