Slim Jim Phantom Featuring Jennie Vee – Locked Down In Love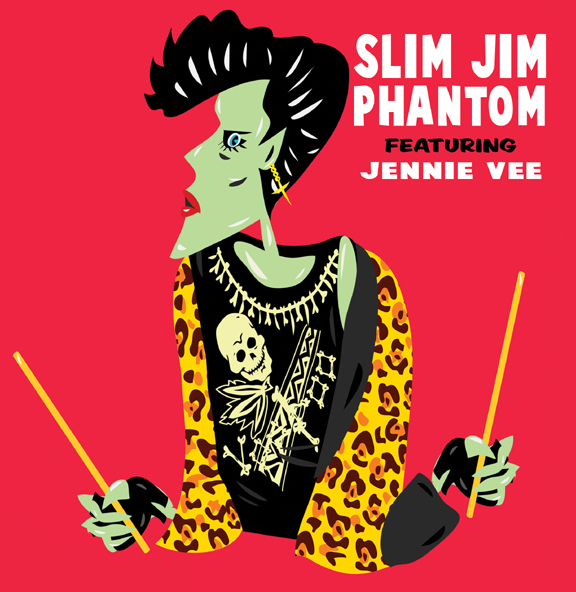 Last Hurrah Records – HURRAH-14 [2020]
Locked Down In Love / What Goes On
Let's start with the obvious: Slim Jim Phantom is not a great singer, but he never pretended so either. But, on the other hand, this guy is a legend, and he has every right to indulge himself by recording a single with a handful of friends and his girlfriend. And "fun" seems to be the main word here, so why not party with them?
Let's talk about the band. You'll find a bunch of seasoned musicians from various horizons like guitar players Gilby Clarke (Guns N' Roses) and Josh Jove (Silvertooth Loos and the Witch), Jeffrey Baxter on steel (who previously guested with the Stray Cats), Teddy Zig Zag (Alice Cooper) on piano and Thomas Lorioux (Silvertooth Loos and the Witch, Frantic Flintstones, Surf Rats to name but three). Jenny Vee co-sings the A-side and can be heard doing the backing vocals on the B-side.
Surprisingly, coming from Slim Jim Phantom, who played in the best modern Rockabilly band, this single has a very strong country and western flavor. This is an excellent idea. After all, one will always have the temptation to compare this single with the Stray Cats, Setzer, or Rocker's solo stuff if he had played Rockabilly. Here, Phantom plays by his own rules. The A-side is an original penned by Phantom and Vee, with prominent steel and powerful slap bass. The flip-side is a cover of the Beatles' What Goes On. Initially sung by Ringo Starr, this song is probably the more country-tinged tune the Fab Four ever recorded, approaching very close from the Bakersfield sound played by Buck Owens. Phantom and crew do great justice to this tune, and one can hear the fun that was had by all.
Icing on the cake, this Neon Pink Translucent vinyl piece comes in a beautifully designed cover, limited to 500 copies.