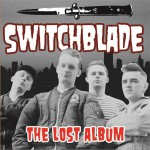 Switchblade – the lost album
Trophy TR005
Baby What You Want Me To Do – Blue Jeans And A Boys Shirt – Blues Blues Blues – Yes I'm Gonna Love You – Chicken Run – No More Crying The Blues – Go Go Go! – Homesick Boy – One Cup Of Coffee – One Part Stops Where The Other Begins – Pink Cadillac – Rock n' Roll Jump n' Shout – Come On Baby Take A Little Chance With Me – Three Alley Cats – Waiting For A Train – Warm Love – What Goes On – Wild Wild Lover – You Got To Lose
Mouse (Red Hot'n'Blue) formed Switchblade in late 1989 with Graeme Grant (Demented Are Go, Krewmen) on bass, Eric LaCube on drums and Guy Bolton (Born Bad) on lead guitar. The band only lasted one year, then Mouse reformed Red Hot'n'Blue. In April 1990 they found time to record a full album in a professional studio that remained unreleased until now.
If you look for slick and polished rockabilly this is definitely not for you. The sound is raw and uneven. There's differences in term of sounds between songs, some sounding more like demos while others seem more "finished". Their sound is a mix of rockabilly (Grant is one hell of a powerful slap bassist) with a good dose of rockin' blues with a lot of energy and an emergency feel present all along the album (the fact that it was recorded and mixed in two days probably contributes to that feel).
Mouse penned three songs and the rest is split between rockabilly classics like Orbison's Go Go Go, Glen Glenn's One Cup of Coffee and Blue Jeans and a Boys Shirt, Roy hall's Three Alley Cats, Benny Joy's Wild Wild Lover and blues like Jimmy Reed's Baby What You Want Me To Do, Earl Hooker's You Got To Lose, George Thorogood's Homesick Boy and some surprise like the Beatles What Goes On.
Despite the lack of homogeneity, it's, with 19 songs, a good value for money, and if you like Mouse you'll jump on this one (and the completist will find demos on the Unreleased recordings on Fury records as well as one song, Ride Ride Ride, on the compilation album 20 Blasters from Blighty).