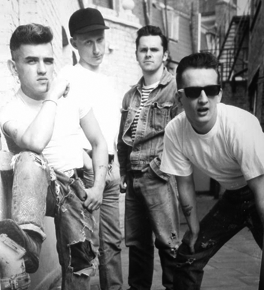 Switchblade
Mouse (Red Hot'n'Blue) formed Switchblade, a rockabilly/rockin' blues band, in late 1989 with Graeme Grant (Demented Are Go, Krewmen) on bass, Eric LaCube on drums (who previously worked with Mouse in The Dillas a recording project) and Guy Bolton on lead guitar (Born Bad). The band only lasted one year, then Mouse reformed Red Hot'n'Blue. They gigged in London and its area as well as some festivals like the Hemsby Weekender.
In March 1990 the band recorded 20 songs in a professional studio. Some of them, and some demos recorded in Mouse's bedroom, are available on the cd album "The Unreleased Recording". Another demo was released on "Twenty Blasters From Blighty". The full session eventually saw the light of day in 2016 on Trophy Records under the title "The Lost Album".
Discography
The Lost Album – Trophy Records – 2016
V/A "The Unreleased Recordings – 1989-1994" DAGCD 3
V/A "20 Blasters From Blighty" – NV COMP 001
Share the post "Switchblade"