The Quakes – The Quakes
Nervous Records NERD037 [1988]
Pack Our Bags And Go – You're Dead – Other Side Of The Tracks – Where Did It Go? – You Are The Scene – Psycho Attack – Show Me – Nine Lives – The Deal – Psychobilly Jekyll And Mr. Hyde – Hangman's Noose – Satan On My Side
Despite its cover, a nod to the Stray Cats, the Quakes debut album has little, or nothing, to do with the Long Island trio.
The music they play on this album is a mix between hard-hitting Psychobilly and hardcore. The songs are powerful, the rhythms are basic, and the distorted guitar plays short and straightforward solos.
The album contains a couple of classics like Pack Our Bags and Go, Psychobilly Jekyll, You're Dead and Where Did It Go. Certains songs also show a deliberate choice to avoid the usual Psychobilly clichés like ghouls, zombies, and cemeteries.
---
The Quakes – Voice of America
Nervous Records NERD058 [1990]
Puttin' Out The Flame – One Of A Kind – Nuthin' Goin Down – Paint It Black – U.S.A. – Chick Hunt – Stick To Your Guns – All Messed Up – Far Away – What Will They Say About Me? – Ice Cold Baby – I Gotta Go
After the release of their debut album, the Quakes were deported back to the U.S.A. due to visa problems. Paul Roman stayed in London and briefly played with Nick Peck in Paul Roman and the Prowlers. In the meantime, Dave Hoy, the band's drummer died in an accident. Roman returned to Buffalo and, still with Peltier on bass, reformed the band with Brian Doran on drums. This new line-up recorded Voice of America for Nervous. Gone was the hardcore influenced Psychobilly of their debut album. On this one, the Quakes added a good dose of Neo-rockabilly and, like the Rockats, they also included echoes of New-wave too.
The result is a superb and absolute killer album and the perfect balance between energy and melody. It's also very well produced and recorded (listen to the slap bass on Stick to your Gun.)
Once again, Paul Roman shows he can write lyrics that are different from the usual run of the mill Psychobilly lyrics.
It's nearly impossible to find a weak track on this platter.
---
The Quakes – Live in Tokyo
Planet Records PCD009 [1992]
Lonely Boy – You're Dead – Puttin' Out The Flame – One Of A Kind – Paint It Black – Strike Out King – Stick To Your Guns – All Messed Up – Psycho Attack – Fishnet Stockings – Hangman's Noose – Shook Shake – Shake Your Moneymaker
This live album was recorded on February 1992, in Tokyo, Japan (hence the title) where the Quakes, and the Psychobilly and Rockabilly genres, were hugely popular. This popularity would later see the band sign with Sony Japan and release "New Generation."
After an enthusiastic introduction by Roy Williams of Nervous Records, 'Live In Tokyo' kicks off with a breathtaking rollercoaster of Psychobilly and hard-hitting neo-rockabilly. The setlist draws songs from the Quakes' first two albums with a couple of covers added for good measure. Among those songs, you'll find the Stray Cats' Fishnet Stockings, Elmore James' Shake Your Money Maker and Wigsville Spliffs' Lonely Boy.
The sound is excellent, and the band with Chris Van Cleeve their new drummer is tight. It benefits the songs taken from their debut album that takes here a brand new dimension.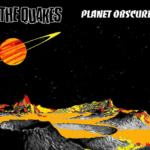 The Quakes – Planet Obscure
ORREXX – REXX005 [2012]
Dark shadows – Die too young – Promise – It's a curse – Streets are so lonely – Don't follow me – This night – Wildcat – You're a joke – Anti social girl – Festa do estica e puxa – All about you
After 25 years or so of existence, The Quakes still led by the inexhaustible Paul Roman release their 7th studio album and they don't seem to run out of inspiration. Very few bands can claim that. Roman's song writing is still sparkling, full of creativity with a superb ability to write complex songs with strong melodies. "Planet Obscure" is in the very same vein as their previous album (the excellent Negative Charge) with some nods to earlier material. Thus "It's A Curse" sounds a bit like an updated version of "you're Dead". Talking about their debut album, there's a tribute to the band's first drummer, Dave Hoy, tragically killed in an accident. The lyrics are well crafted too, avoiding the endless clichés of bats, zombies, graveyards and so on, a thing the Quakes never really did.
Most of all, Roman doesn't seem to care about tags, in that he's similar to Alan Wilson of the Sharks. Rockabilly, Psychobilly, New Wave, Hillbilly, Brazilian pop… if it's good to his ears, he incorporates it to create that great Quakes sound that is instantly recognizable. This is all that, and more, that you'll find on Planet Obscure.
Fred "Virgil" Turgis
Official page: http://www.thequakes.com/