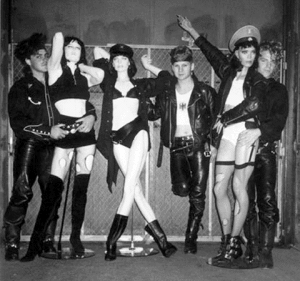 The Quakes are one of the first (if not the first) american psychobilly band. Like their compatriot the Stray Cats they crossed the sea to find fame in Europe where by the time the psychobilly scene was growing bigger and bigger. Roy williams and Nervous record quickly signed them and released their first album, which soon became a raw psychobilly classic. Their second record "Voice Of America" was more neo-rockabilly, and stands for me as their best. They then find a big audience in Japan with sold out shows and albums like Quiff Rock and New Generation where they mixed the usual rockabilly and psychobilly stuff to Billy Idol and Adam & the ants influences.
This interview with Paul Roman took place in 2005 for the release of  "Psyops". More infos abot their recent albums on their website www.thequakes.com .
by Fred "Virgil" Turgis
How did you become interested in music?
I was always interested in music as a kid.When I was 9 or 10 I started buying records. I was a big fan of The Beatles- The Rolling Stones- The Kinks- Monkees. I had older brothers and sisters who left those records behind when they moved out.
In what kind of musical background did you grow?
My parents always had music on in the house. My dad was from Poland and he liked polka music and my mom would listen to big band stuff. My oldest brother had a band and I used to watch them practice in the garage.
When did you start playing guitar ?
When I was 15 or 16, Dave "the ace" Hoy got an acoustic guitar for Christmas and we went out in the garage to jam. I was playing drums on garbage pails because I used to have a snare drum and cymbal when I was 12 but I sold it cause I never played it. Anyway, we switched instruments and found that Dave was a better drummer and I was a better guitar player- that's how the whole band thing started.
Did someone influence you to choose that instrument?
YES! Absolutely- It was Brian Setzer- When I saw the Stray Cats on MTV I knew what I want to do! I had the snare drum like I said and that went no where and then I bought a keyboard because I was into New wave bands like the B-52's and Devo etc. but I lost interest in that to -but when I saw the Stray Cats it was like I found my thing.
I assume you play bass too…
Yes- I bought an upright bass when I was 17 cause we couldn't find anyone to play it so I decided to get one and learn how to play then I could teach someone. (Ed. Paul plays bass on some of the Quakes' recent cd's)
In your bio, you're talking about the Quiffs. Were you in other bands before?
Yes but they were all with Dave and me- there was The Runaway Boys-The Teenage Rebels- Rockin Wildkats
What was the style of the Quiffs,? Was it a pre-Quakes kind of band?
We played obscure rockabilly and modern covers and originals- it was kinda pre Quakes again with Dave Hoy playing bass and Chris Van Cleve on drums. We recorded some stuff in a studio but its terrible. We were not very good in those days but we had fun.
When you start playing with the Quakes, were you aware of the European psychobilly scene?
Well… yes and no- I went to London to try to start a band in the summer of 1985 and at that time I had heard some psychobilly and I hated it- to me it sounded like punk rockers trying to cash in on the rockabilly scene- I didn't understand it. I was a real ROCKABILLY GUY. Then in 1986 I went to London again to try to start a band and I was staying right down the street from the Klubfoot- but I wasn't gonna go there…My friend had just bought the first Guana Batz album and I remember I liked the song "Down on the line" but I didn't like the rest of it- I didn't get it. I was hanging out at all the rockin clubs in London listening to Curtis Gordon etc.When I went back home- I put the Quakes together but we were trying to be a modern band like the Stray cats-Rockats-Polecats etc.The things that lead us to psychobilly were 1) we couldn't play our instruments like the bands we wanted to be like (frustration) and 2) no one was paying any attention to us around town(more frustration) So I started writing these songs like "You're Dead" and others because I was pissed off at everything-we changed our look also at that time. After that the hardcore kids would all come to see us and we started getting more gigs. Hardcore music was real popular in Buffalo at that time so we tried to incorporate some of those ideas into our stuff. "Psychobilly Jekyll & Mr Hyde" is an example of the slow part- fast part thing from the Hardcore scene-a perfect example would be "institutionalized" by Suicidal Tendencies which was a big song at that time. I think all those "HEY"s in our music came from the Ramones which I always liked.
Is this what led you to move to London?
We moved to London because after realizing that there was this big scene over there, we wanted to be a part of it. We had sent a couple of demo tapes to Nervous and Roy said we were too slow, so naturally we thought the secret to success is just play fast so that's what we did. We knew that the Stray cats had sold all their stuff and moved to London so we were kinda going the same thing. I was 20, Rob was 18 and Dave was 16.
How was the American scene at that time?
Ha ha there was no scene at all, people laughed at us?! That's another reason we wanted to move to London.
Your first album was a graphic reference to the first Stray Cats album…
We did what they did by coming to London and getting a record deal. I thought it was a good Idea- I had seen pictures of the Bluecats album that references the Gene Vincent album and some Polecats pictures that were like the Beatles album cover standing over the railing. It was a cool idea and it worked for us.
Didn't that deserve you, due to the fact of stupid people who classified you as Stray cats followers?
Well the sad reality is…if I COULD have sounded like Brian Setzer, I probably would have. We had no choice in the fact that we had our own sound-it was that way because we sucked ha ha.
Did you have reaction from the Stray Cats about this homage?
Yes- they saw it when they came over for the BLAST OFF tour in 1990 and I got to go to two shows and meet them backstage. Slim Jim says he still has it on the wall at his house!
During the first "split" of the Quakes you played with Demented Are Go. How did it happen?
I was in London working on a solo album (never happened) and I was living in a squat. I saw Ant Thomas in the laundry mat by my house-it turns out that he lived in the same neighborhood. He said that Lex had quit and they had a bunch of shows lined up that they were going to have to cancel so I said I would do it. It was a lot of fun but I wanted to do my own thing.
Even if each album has its own sound, the change between the first one and Voice of America was radical. How do you explain this evolution?
Well first and foremost we didn't have Dave Hoy anymore, he was killed in an auto accident in Buffalo. Any time you get a new guy in the band, the sound is going to change.We also could play our instruments a lot better at that point. After that first record there was no place else to go- I mean..what would we do ? Try to make a faster record?? We did the monster- graveyard- thing and I could see that- that was no where and I didn't want to be one of "those" bands.
I think the stuff on Voice Of America is more of what we sounded like BEFORE we did the first record.
You started to be quite known in Japan, even had a deal with a major. Did they try to change your sound?
No they didn't?! In fact they didn't care about the music at all… For them it was about the packaging?! We argued with them for months about what the cd booklet was going to look like.They wanted to use all this cliché' stuff like switchblades and dice etc. etc. They also wanted us on the cover with our instruments- we were very against this. We were trying to cross over into a new audience and we didn't want any obvious references on the cover. The rockabilly/psycho crowd already knew who we were so it was pointless to put all that stuff on the cover for them. That record was only meant for Japan- then Nervous licensed it but I knew our fans would not like it- some did- When we put out the Nervous one we did the cover ourselves and we are still getting crap from people who don't understand what we were..or ARE about. I think its funny that people said we look GAY on the cover because we are wearing leather pants and make -up. You know to us, we thought all those cds covers with silly cartoons were very stupid- We always wanted to be taken serious- I believe that psychobilly is a valid style of music. Too many people who write for rock magazines see psychobilly as something silly and stupid. We were trying to break that stereo type. Its not a cartoon-its great MUSIC and it doesn't have to be about graveyards and stupid shit.
Don't you consider the psychobilly label too limited for a band like the Quakes? On a record like New Generation there are more than just rockabilly and psychobilly influences.
Yes for sure but we sort of fit into this scene- we still play psychobilly- we do all those old songs in our set-we are definitely not rockabilly. Im not interested in those labels-To me its all about the sound of the Slap bass and twang guitar.
You created your own label, is this because you had problems with records labels (you said you didn't touch anything on the Nervous release of Live In Tokyo)
Ya- we signed a lot of bad contracts- we were kids and we wanted to be on a record. We didn't bother to have lawyers look at those contracts etc.The "Live in Tokyo" story is a whole story in itself but we got screwed by a Japanese label on that one and now we don't receive any royalties on that.
Will there be other artist on this label?
I don't think so- I don't want to be "the guy" at the record label- in other words I don't want to be "the asshole" Its a lot of work just to put out the Quakes cds.
So, what about this new Quakes album?
Im working on it and I hope it will be out by May or June (this interview took place in april 2005 ).There is a lot of songs and Im going to have to leave a lot out.The new record will be different than the rest but its still me writing the songs so if you are a fan you will like the new one. Its gonna be what I call "Quiff Rock" rockabilly+psychobilly+hillbilly=Quiff Rock
A last word?
Stick to your guns?!