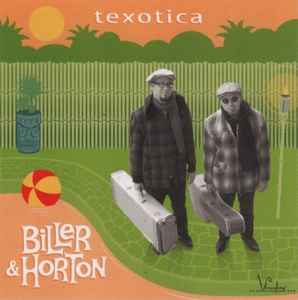 Biller & Horton – Texotica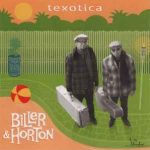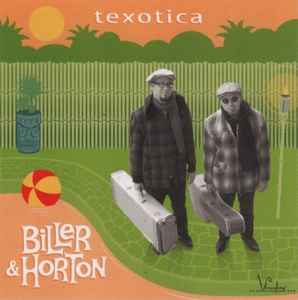 Vinylux V0007 [2005]
The Sneak-A-Roo – Deep Eddy – Tiki, Tiki – Blackberry Bounce – The Devil's Birthday Party – Whispering Palms – Grease Fire – Slippin the Mickey – The New Thang – Dutch Treat – Mood Music for a Tropical Depression – Adam the Inkman – Texas Twilight
Texas guitar slingers Dave Biller and Bobby Horton teamed up to record this all-instrumental album titled Texotica (for Texas and Exotica) for Vinylux records in 2005. Biller plays the guitar, and Horton takes the steel on most of the track except for a couple of tunes where Horton plays the lead guitar and Biller switches to electric bass. Bobby's brother, Billy, plays the bass (and records the whole thing), Biller's wife Karen plays the vibes, T. Jarrod Bonta plays some piano, and Buck Johnson is on drums.
It's a varied mix of styles. Hence you'll find Hillbilly swing (The Devil's Birthday Party with Erik Hokkanen on fiddle, blackberry Bounce), some influences from Speedy West and Jimmy Bryant (The Sneak-A-Roo), jazz (Dutch Treat) and some blues oriented stuff (Slippin' the Mickey, which I suspect is a reference to Mickey Baker, Texas Twilight). Also, plenty of songs justify the title and songs like Tiki Tiki, Mood Music For A Tropical Depression, and Whispering Palms sound like Hawai/Exotica/Martin Denny all rolled into one with a dash of Les Paul for the former.
This album will ideally find its place next to Biller and Wakefield's or John Munnerlyn and Lee Jeffriess' one.
Fred "Virgil" Turgis