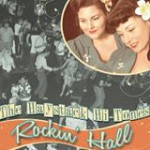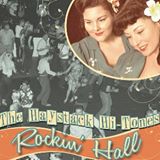 The Haystack Hi-Tones – Rockin' Hall
{2013}
Evil Train – Good & Lonesome – It's Driving Me Crazy – One Sweet Letter From You – Rain Rain – Bo-Bo Ska Diddle Daddle – What A Lonesome Life It's Been – The Joke's On You – Leave My Baby Alone – Someday I Know He Will – I'm In A Whirl – Can I? – Hou Je Echt Nog Van Mij Rocking Billy – Rockin' hall
When one thinks about the Netherland he often reduces this beautiful country to a serie of cliches like tulips, Amsterdam, canals, windmills and narrow boats which is partly true, but rock'n'roll fans are cleverer than that and know what the real treasure of this country is: hillbilly and rockabilly female singers. And they have good reasons to be proud with Miss Marie Ann (with or without the Ranch Girls), the Bugaloos, Lil Esther, Sue Moreno and… the Haystack Hi-Tones who return after an 11 year hiatus. It doesn't mean they remained inactive, while Marjos kept on playing with the Hi Tones, Annita released two highly recommandable solo albums. But when you listen to this brand new album you can't help but think that it would have been criminal not to reunite because oh boy, their voices blend so perfectly. This is top hillbilly harmonies with a hint of rockabilly played by a band that has nothing in mind but the pleasure to play. There's a joie de vivre that sweats from every grooves (okay it's a cd) of this album. Do you remember the old Esso ad that said "put a tiger in your tank", with the Haystack Hi Tones you can put a smile (actually two) in you player. So, check the list: good singers, beautiful harmonies, great band, good choice of songs and icing on the cake superb package designed by Oh My Lucky Star. The only question is "What are you waiting for?".
Fred "Virgil" Turgis
Share the post "Haystack Hi-Tones (the)"