The Speedos – It's Only Rock'n'Roll
PART 647.001 [2010]
Ghostriders ~ Believe me ~ Remember then ~ From the bottom of my heart ~ Sandy ~ You're driving me crazy ~ Cotton fields ~ I'm not a juvenile delinquent ~ A Zippe Di Zoom ~ Fly me to the moon ~ Come go with me ~ Lovely night ~ Rag Mop ~ I just want to know ~ Sh'Boom ~ West Virginia (Country Roads) ~ The Diary
Part has the good idea to reissue the Speedos catalog. First released in 1989, It's Only Rock'n'roll was until this reissue only available on vinyl and I suppose long out of print.
This quartet could be described as the German cousins of the British Keytones.
They play doo-wop harmonies with a bit of jive on a rockabilly background. There's even some hillbilly with their uptempo cover of Cotton Fields.
Like numerous debut album, it's not flawless, but the few minor imperfections are well compensated by the freshness of their approach.
The repertoire goes from Frankie Lymon (I'm Not A Juvenile Delinquent) to the Del-Vikings (Come Go With Me) or Frank Sinatra (Fly Me To The Moon) with a couple of originals too written by lead singer/guitarist Olaf Prinz. On a couple of songs the line-up (guitar / doublebass / drums / saxophone) is augmented by Götz Alsmann on piano for a fuller sound.
As an added bonus,the band's debut ep from 1987 – featuring a self penned song (I Just Want To Know) and three covers: Sh-Boom, John Denver's Take Me Home Country Roads and a rockabilly-doo-wop rendition of Neil Sedaka's The Diary – is included. Recommended.
---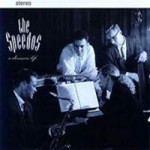 The Speedos – A Dreamin' Life
King Hat [1992] – reissue Part [2010]
I call it bop – Duke of earl – Jungle book – I adore you – Quiet whiskey – Believe me – A dreamin´life – Dance town – Caledonia – Blackboard jungle – Forever – Hey you
A Dreamin' Life is the band's second album, and to get to the point, their best. It takes more or less the same ingredients than their debut but both the sound and the band are better.
It kicks off with "I Call It Bop" that wouldn't be out of place on the Stargazers' debut album. Next is the accapella doo-wop "Duke Of Earl" with top vocals and harmonies. They also do great justice to Louis Prima's Jungle Book. "I Adore You" is a sweet ballad with a bluesy edge. The pace changes with Wynonie Harris' Quiet Whiskey, a solid jiver also treated in a Stargazers style. Believe Me features Gotz Allssman and is a re-recording of a song from their first album in a more accomplished version. The title track is a soft rockabilly. "Caldonia" is the sole weak point of the album, but it's quickly forgotten with Blackboard Jungle a great rock'n'roll. "Forever" is another great moment in the Keytones style while Hey You concludes the album on an uptempo note.
Fred "Virgil" Turgis