Uptown Rhythm Kings (the) – Oooh-Wow!
Ripsaw Records 222 [1990]
Oooh-Wow / Something's Going On In My Room / No Use Knockin' / Tell Me Pretty Baby / Let Me Give You Lovin' / House Rocker / Open Up The Back Door / Honey Baby / 'Til I Say Well Done / Sad As A Man Can Be / I'm Gonna Have To Send You Back / Sittin' On It All The Time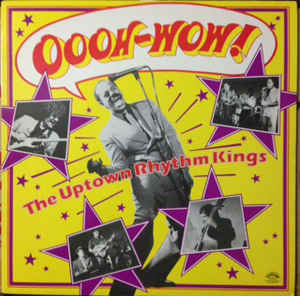 The Uptown Rhythm Kings was an 11-piece jump blues combo from Maryland. On this recording, they had a mighty horn section made of two tenor saxophones, two baritones, one trombone, and one trumpet. They recorded this album and released it on Ripsaw the following year. It kicks off with a cover of Roy Montrell, the perfect vehicle for Eric "Shoutin" Sheridan as is Open Up The Backdoor, their cover of the Midnighters. The piano player takes the lead vocals on a couple of numbers, which brings a New-Orleans feel, in the style of Fats Domino, Professor Longhair, and Lloyd Price.
One of the secret weapons of the band is their guitar player, Rusty Bogart, as demonstrates their cover of House Rocker, a BB Kings' instrumental. He literally steals the show on Let Me Give You Lovin' plays some tasty blues-jazz licks on 'Til I Say Well Done and proves that he's also at ease when it comes to playing in a Johnny Guitar Watson/T-Bone Walker vein (the fast-paced Sad As A Man Can Be.) There are even hints of Mambo here and there (I'm Gonna Have To Send You Back).
Fred "Virgil" Turgis