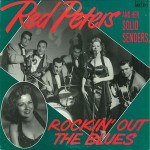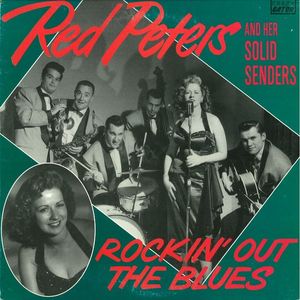 Red Peters and her Solid Senders – Rockin' Out The Blues
Crazy Gator Records ‎– CGRLP003 [1997]
My Man Ain't Coming Inside – The Big Saturday Nite – Gettin' High – As Long As I'm Movin' – Ride Daddy Ride – Rock This Joint – I Ain't Talkin' – Hey Everybody – Whole Lotta Shakin' – Shake That Thing
Red Peters, the girl with the big voice, and her band the Solid Senders (guitar, honkin' saxophone, trumpet, drums and double bass) and guest Chris Gardner (Stargazers) on piano released Rockin' Out the Blues, their debut 10″ in 1997. With no concession made to modernity this hot platter is a white heated slab of late 40's/early 50's Rhythm'n'Blues and Jump in which one can hear the influences of Ruth Brown, Big Mama Thornton, Big Joe Turner and of course Ella Mae Morse. The band's originals match with the covers easily. Red's voice is really impressive, confident and powerful without shouting while the band provides a solid backing.
Fred "Virgil" Turgis
Share the post "Red Peters and her Solid Senders"