Bamboozle – Retrograde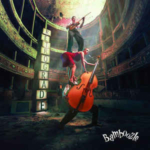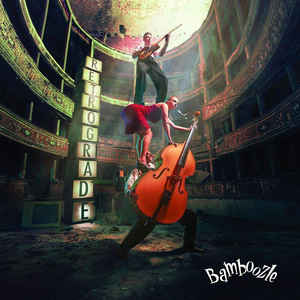 Jimena records – RIGHT339 [2019]
Five past ten – the Lowdown – Rockin' Man – Heebie Jeebies – Ice Cold Beer – Just Like You – Toxic Nightmare – Daddy's Girl – Fever – Mayhem
Bamboozle came to my attention with their cracking cover of Nick Cave's Red Right Hand. I put the band's name in one corner of my mind and, to my great shame, I must say it stayed here for a while until I received "Retrograde" their debut album.
I was like "oh yeah I remember, the band that plays that Nick Cave's cover" when I put the cd in the player. One minute later, I was hooked, and by the end of the last song, I was blown away.
First, let me introduce the band. On drums a well-known figure on the rocking scene: Les Curtis. Les played with Solid Smoke, Bob & the Bearcats, Mouse Zinn, Kid Rocker, etc. Also another familiar name, mister Jim Knowler of the Keytones (he also played with the Stargazers) on guitar. And last, but certainly not least, Serena Sykes aka the bass pixie, on double bass, vocals, writing, and production.
This trio forms the core of the band, but this album also features Keith Wilkinson on acoustic guitar and Peter Clifford on piano.
Five past ten is the perfect opener and describes precisely the sound of Bamboozle: fifties influenced music with a modern edge. While Curtis keeps the beat and Knowler flies on the fretboard, Sykes proves you can be a girl who sings Rockabilly without ending all your verses with a growl.
Sung by Knowler with harmonies by Wilkinson the Lowdown is part Buddy Holly, part Dave Edmunds, and 100% killer!
Sykes' Rockin' Man hardens the sound with a menacing riff bordering on Psychobilly. Out of sudden, Knowler jumps into a hot solo that is sure to please fans of Mark Harman and John O'Malley. Heebie Jeebies is not a cover but another Sykes original that she sings with grace. A jazz tune that swings as hell with superb backing vocals. This song is the occasion to salute the brilliant production work. And not only Retrograde is well recorded, but it's also perfectly mixed.
Knowler returns on lead vocals with two songs. The hillbilly tinged Ice Cold Beer and Just Like You a Doo-Wop-a-Billy that wouldn't be out of place on any of the Keytones albums.
The following two songs show the vocal range and how equally at ease at singing and writing any rocking style. Toxic Nightmare has a bit of Surf/Walk Don't Run flair to it while Daddy's Girl is one hell of a Rockabilly song.
The last two songs are covers from Little Willie John (Fever) and Imelda May (Mayhem.) On the paper, these choices first let me perplex. I'm not the biggest fan of Miss May, and I thought, "Does the world really need another cover of Fever?" But once again Bamboozle won over me. They took a fresh and brand new approach on Fever and Mayhem, full of energy, let me wanting for more which is the perfect way to finish a Rock'n'roll album.
Without a doubt, the band worked hard to produce such a good record. Now it's your turn to work, buy it (https://www.bamboozlehq.co.uk/) and support Bamboozle live!
Fred "Virgil" Turgis