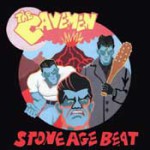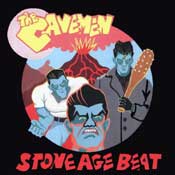 The Cavemen – Stone Age Beat
Count Orlock Records
Living Dead – Haunted House – Silver Surfer – Stone Age Beat (Wilma) – Wilderella – Is It Over – The Car – Devils Road – Vampire – Indian Style – Jericho – One More Chance – Do Do Ta Ta – Don't Need A Job
Drowned in the mass of psychobilly releases in the late 80's, this too often overlooked album deserves to be rediscovered today.
The Cavemen formed in 1982 with Marcel Hoitsema on guitar and vocals, Roland Verbruggen on double bass, and Jos "Toolie" de Groot on drums. Verbruggen previously played guitar with Mac Taple in the early 80s
After a while, Jos left the band, and Berto Rerimassi joined in on drums. This line-up recorded two songs for the compilation album Cool Cat Go Ape (Big Shot Records – big shot rec 001), released in 1986. These two songs were A Couple of Days and an early version of Vampire.
After these recordings, Marcel asked his friend Jean-François Besson to join the band. But after a couple of rehearsals, the new direction taken by the band didn't please Roland and Berto that much. Marcel then left the band to form Bang Bang Bazooka with Jean-François.
Berto switched to lead guitar, and Ronald Smet joined as the new drummer. In August 1989, this new line-up went to Tango studio in Eindhoven to record the band's sole album, Stone Age Beat. It's an excellent album of soft Psychobilly with well-crafted and varied songs. Particularly good are Stone Age Beat (written by Hoitsema and featuring a quote of the Flintstones theme), Silver Surfer, and One More Chance, a humoristic slow number with outrageously fake cries. It also contains a new version of Vampire, which was also re-recorded by Bang Bang Bazooka on their debut album.
Fred "Virgil" Turgis