Darrel Higham – Mobile Corrosion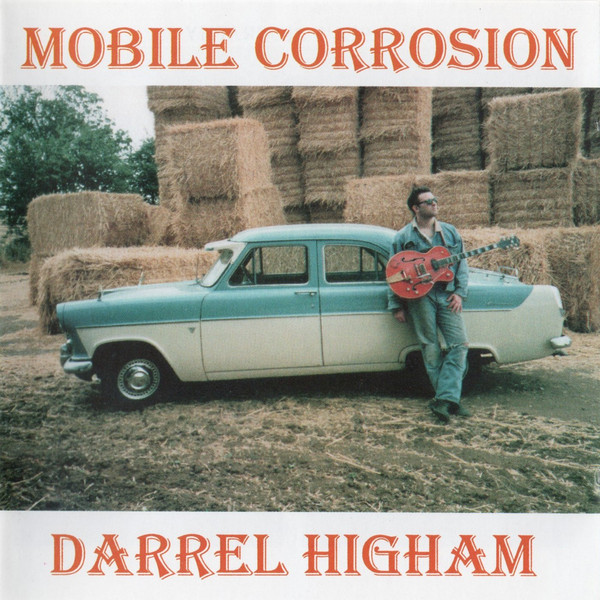 Nervous Records NERCD082 [1995]
Like A Brand New Man – If You Can Live With It – Long Lonely Road – Deep In The Heart Of Texas – I Like Me Just Fine – Second Hand Information – In My Heart – No One Will Grieve – Revenue Man – Country Lila Rhue – You Were Right, I Was Rong – I've Been Gone A Long Time – Don't Bug Me Baby – Amanda's Song – Travis Pickin' – Life Goes On – Rockin' Band Blues
Recorded in 1995 for Nervous Records with Rusti Steel (lap steel), Les Curtis (drums), Mick Wigfall (bass), and Dave Brown (piano), Mobile Corrosion is one of Higham's most country-tinged albums.
Like A Brand New Man is a perfect opener, sounding like a cross between Johnny Horton's Honky Tonk Hardwood Floor and Berry's Promised Land. If You Can Live Without It is a country ballad yet muscled up by the slap bass and features nice guitar picking.
Long Lonely Road is a Rock'n'roll tune on which Darrel's Cochran inspired vocal makes wonder. Geraint Watkins' Deep In the Heart Of Texas is an excellent country drive with a powerful drive. The following track, I Like Me Just Fine, is way heavier, with mean guitar and powerful vocal. Back to traditional Rockabilly, with a hillbilly touch, with Gentleman Jim's Second Hand Information. Every good Rock'n'Roll album should feature a slow number. Good news, you have two on this album, In My Heart and Amanda's Song, and one more time, Higham's voice, not far from Cochran on Lonely Street here, is perfect.
No One Will Grieve is a modern Rocker with a solid bass part. Revenue Man is a cover of George Jones tune, Country Lila Rhue is more on the hillbilly bop vein, while You Were Right, I Was Wrong is a Rockabilly ballad.
I've Been Gone Too Long is a mean Country-rock, and you could easily imagine Sonny George singing it. Though Milton Allen did the original of Don't Bug Me Baby in 1957, Higham's version comes from the cover made by Shakin Stevens in 1981. It's instrumental time with Travis Pickin'. No surprise, all is in the title. Life Goes On shows the influence of Gene Vincent, which means brushed snare drums and plenty of jazz influences in the guitar. Rockin' Band Blues is a Cochran pastiche. Nothing really original but a good song nonetheless.
---
Darrel Higham & the Barnshakers – Pretty Little Devil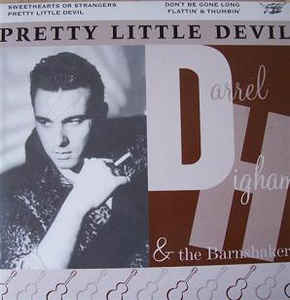 Goofin Records GOOFY 570 [1997]
Sweethearts Or Strangers – Don't Be Gone Long – Pretty Little Devil – Flattin' & Thumbin'
Darrel Higham recorded this ep in 1997 with the ever-excellent Barnshakers from Finland. That was not the first collabration between the British guitar picker and the Finnish Rockabilly band. Both recorded a full album together in 1993. Sometimes when two talented artists or bands join forces, the result doesn't keep up with the expectations (I have a few example that I'll keep for myself.) That was not the case here, this four-track ep is excellent.
Side one kicks off with a cover of the old classic "Sweethearts or Strangers". Higham's vocals and guitar give it a strong Eddie Cochran feel, and Lester Peabody's steel guitar nicely enhances it. Next is a cover of Bod Doss' "Don't Be Long Gone." Like the original, it's jet-propelled by a solid slap bass intro.
Vesa Haaja, the singer of the Barnshakers, joins forces to sing harmonies for the Everly sounding Pretty Little Devil, recorded initially by Bob Denton and Eddie Cochran.
The last track is a guitar duet between Higham and Peabody/Jussi Huhtakangas. Well, the title says it all. It's a gentle battle between these two great pickers. One can only regret that Deke Dickerson wasn't there at the time of the recording.
There are still a few copies left on Goofin Records.
Fred "Virgil" Turgis
Share the post "Darrel Higham"