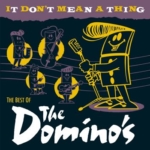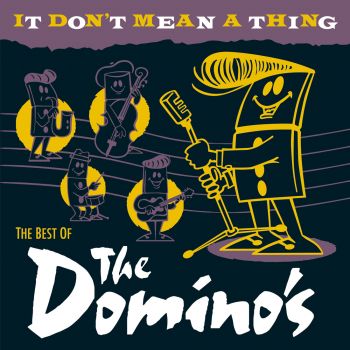 Domino's (the) – It Don't Mean A Thing
El Toro records – ETCD 6097
It Don't Mean A Thing – I Can't Be Satisfied – Flyin To The Station Gate – Minor Swing – The Messaround – The Train With A Rhumba Beat – Cuckoo Girl – Trapped In A Web Of Love – Cannonball Rag – It's A Sin To Tell A Lie – Why Don't You – Je Suis Swing – Tornado – Everybody Said – Rhythm In My Bones
Patrick Ouchene formed the Domino's in 1989. The band first started mainly as a rockabilly combo and released their debut album for Rockhouse records in Netherland. By their second album as their tastes changed, their sound evolved covering a wider range of roots music.
This best of is basically their "Minor Things" album (released on Big Bang Records) with a couple of bonus tracks.
To be honest, Duke Ellington's is not the best song to start with. Ouchene's vocals is a bit too much but the solist are hot. By the second song, Muddy Water's Cant Be Satisfied, things get way better. From that point, the whole set range from swing (Django's Minor Swing), Rhythm and Blues (Mess Around), Rock'n'roll (Rhythm in My Bones), French Zazou music (Johnny Hess' je suis Swing) and of course Rockabilly (Why Don't You,  Tornado) without forgetting a fine cover of Johnny Horton's the Train with the Rumba Beat.
The band benefits of the service of a hot rhythm section (it can, featuring Jack fire of the Wild Ones), a solid lead guitar (and some steel too) and most of all, the band secret weapon in the person of Bernard Vancraeynest  who not happy to arrange some of the songs plays violin, cello, piano and saxophones.
All in all a very pleasant album that I was happy to rediscover with this best-of (and I encourage you to do the same).
Available here.